Catalogs

>

Selective Catalytic Reduction
Catalog excerpts
All data provided in this document is non-binding. This data serves informational purposes only and is especially not guaranteed in any way. Depending on the subsequent specific individual projects, the relevant data may be subject to changes and will be assessed and determined individually for each project. This will depend on the particular characteristics of each individual project, especially specific site and operational conditions. Copyright © MAN Diesel & Turbo. D2366525EN Printed in Germany GKM-AUG-07144 Selective Catalytic Reduction The solution for less NOx Catalytic after-treatment Selective Catalytic Reduction (SCR) is the most tested and approved system for achieving NOx reduction rates up of to 90%. By inducing chemical reactions in the engine's exhaust gases, harmful substances are transformed into ecologically benign constituents. The MAN Diesel & Turbo SCR system standard is available in fourteen different sizes. In this way, it fully covers the entire portfolio of MAN Diesel & Turbo four-stroke medium speed engines. Furthermore, customized SCR systems can be offered on demand. Main components of the SCR system: ■ SCR reactor ■ Catalyst elements ■ Soot blowing system ■ Dosing unit ■ Mixing device ■ Urea injection lance ■ Control unit ■ Compressed air reservoir module Optionally, an NOx measuring system can be included for closed loop control of urea injection. MAN Diesel & Turbo 86224 Augsburg, Germany Phone +49 821 322-0 Fax +49 821 322-3382 marineengines-de@mandieselturbo.com www.mandieselturbo.com Selective Catalytic Reduction 5 MAN Diesel & Turbo - a member of the MAN Group awmwmm Partner of the Engineering Industry Sustainability Initiative Engineering the Future - since 1758.
Open the catalog to page 1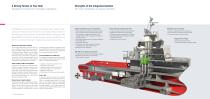 A Strong Partner at Your Side Equipped for tomorrow's emissions regulations Strengths of the Integrated Solution Our core competence in engines and SCR With MAN Diesel & Turbo at your side, you've got the best long-term partner to guar- Engine and SCR set as core competence Proven SCR and catalyst know-how Worldwide service network antee secure emission solutions for the future. Our technology already complies with response time for changes in boundary conditions to 2.5 g/kWh of fuel oil consumption savings during experience from the automotive industry and cost-effective component design...
Open the catalog to page 2
All MAN Diesel SE catalogs and brochures

Compare up to 10 products