Catalogs

>

MAN Alpha FPP Retrofit Flyer
Catalog excerpts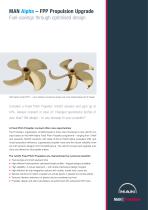 MAN Alpha – FPP Propulsion Upgrade Fuel-savings through optimised design MAN Alpha model FPP's – a four-bladed conventional design and a five-bladed Kappel tip-fin design Consider a Fixed Pitch Propeller retrofit solution and gain up to 14%. Always relevant in case of: Changed operational profile of your ship? Old design – or any damage to your propeller? A Fixed Pitch Propeller concept offers new opportunities The PrimeServ organisation of MAN Diesel & Turbo has introduced a new retrofit concept based on the MAN Alpha Fixed Pitch Propeller programme – ranging from 3 MW and upwards. Retrofit solutions with state-of-the-art MAN Alpha propellers offer optimised propulsion efficiency, suppressed propeller noise and the robust reliability inherent with product designs from the MAN group. The retrofit concept and upgrade solutions are offered for all propeller makes. The retrofit Fixed Pitch Propellers are characterised by numerous benefits: Fuel savings and short payback time High-efficient hydrodynamic optimised blade profiles – Kappel designs available High reliability: A robust approach – with ample mechanical design margins High-efficient aft ship integration options with rudder, rudder bulb, ducts etc. Tailored solutions for direct-coupled two-stroke plants or geared four-stroke plants Torsional vibration behaviour of plants may be considered up front Propeller design and plant calculations are performed with advanced CFD tools.
Open the catalog to page 1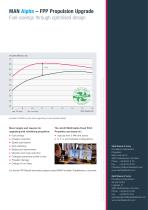 MAN Alpha – FPP Propulsion Upgrade Fuel-savings through optimised design Example of efficiency gain when upgrading to new propeller design More targets and reasons for The retrofit MAN Alpha Fixed Pitch upgrading and retrofitting propellers: Fuel savings Outputs from 3 MW and above Emission reduction Speed optimisation Slow steaming Bollard pull improvement Vibration and noise reduction Changed operational profile of ship Propeller damage For further FPP Retrofit information please contact MAN PrimeServ Frederikshavn, Denmark. Copyright © MAN Diesel & Turbo · All data provided in this...
Open the catalog to page 2
All MAN Diesel SE catalogs and brochures

Compare up to 10 products