Catalogs

>

Maine Mystique Brochure
Catalog excerpts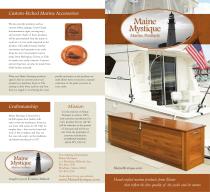 Custom-Etched Marine Accessories We also provide products such as custom tables, signage, Coast Guard documentation signs, serving trays, and coasters. Each of these products will be personalized with the name or a picture of your yacht engraved in the product. This added feature further customizes and separates your yacht from the rest. Our products can be made from Mahogany, Cherry, or Teak to match your yacht's interior. Coasters and serving trays can also be made from Solid Surface material. What sets Maine Mystique products apart is that we custom etch every product you purchase from us. The etching is done from a photo and font that you supply to us. Having the exact Craftsmanship Maine Mystique is housed in a 64,000-square-foot facility with state-of-the-art machinery; however, our most vital assets are the folks we employ here... they are the heart and soul of this company and they are the ones who carry on the traditions and ideals introduced in 1957. profile and name on the products we craft allows them to become a natural extension of the pride you have in your yacht. Mission It is the mission of Maine Mystique to achieve 100% total customer satisfaction for every product that we sell. We will be relentless in the pursuit of that goal and will never vary from the principles of customer satisfaction: Company image, quality, value For ordering information: Maine Mystique c/o Windham Millwork, Inc. P.O. Box 1358 Windham, Maine 04062 207-892-3238 brought to you by Windham Millwork Order direct from our website: Hand-crafted marine products from Maine that reflect the fine quality of the yacht and its owner.
Open the catalog to page 1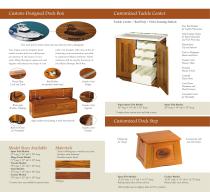 Customized Tackle Center Tackle Center / Bait Prep / Fish Cleaning Station ·  Four Rod Holders ·  Solid Cutting Surface for Bait Preparation and Fish Processing Your yacht will be custom etched onto your dock box from a photograph. Your unique custom-designed, handcrafted wooden dock box will become an extension of the beauty of your yacht. Maine Mystique's unique style and elegance will enhance the image of your yacht. Our products offer state-of-the-art technology and customization, provided by experienced Maine craftsmen. Fellow yachtsmen will be awed by the beauty of your Maine Mystique...
Open the catalog to page 2
Compare up to 10 products