Catalogs

>

voyage data recorder (VDR) for ships
Catalog excerpts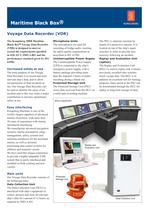 Maritime Black Box® Voyage Data Recorder (VDR) Black Box® Voyage Data Recorder exceed the requirements specified performance standard given by IEC The main purpose of our Voyage Data Recorder is to record and store relevant ship's data, and to allow reconstruction of ship incidents at sea. Our Voyage Data Recorder can be used to identify the cause of an incident and in this way make a major contribution to increase operational Easy interfacing world's largest suppliers of advanced marine electronics, with more than 30 years of experience with marine automation interfacing. We manufacture advanced navigation systems, marine automation, cargo management, safety systems and maritime simulators for the merchant marine, as well as dynamic positioning and control systems for offshore and research vessels. We have used this unique experience to provide a highly adaptable VDR system that is easily interfaced and installed on both existing and new Main units Our Voyage Data Recorder consists of Data Collection Unit The Data Collection Unit (DCU) is interfaced with ship's equipment to collect, process and store all relevant ship's data for a period of 12 hours, as Microphone Units recording of bridge audio, meeting the audio quality requirements as Uninterruptible Power Supply The Uninterruptible Power Supply emergency power supply, with a battery package providing more than the required 2 hours of audio recording during a black-out. Protected Storage Unit The Protected Storage Unit (PSU) stores data received from the DCU on a solid state recording medium. means of a protective capsule. It is located on top of the ship's super- structure in order to provide easy recovery following an incident. Replay and Evaluation Unit The Replay and Evaluation Unit (REU) is used to replay and evaluate previously recorded time synchro- nized voyage data. The REU is in addition an excellent tool for training purposes. Data stored in the PSU can replay or long-term storage of data.
Open the catalog to page 1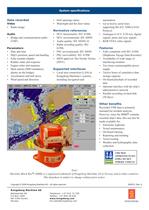 System specifications Data recorded • Radar image • Bridge and communication audio • Ship's position, speed and heading • Echo sounder (depth) • Rudder order and response • Engine order and response • Main alarms (IMO mandatory • Acceleration and hull stress • Wind speed and direction • Hull openings status • Watertight and fire door status Normative references • Radar recording quality: IEC • MED approval: Det Norske Veritas Supported interfaces • Local area connection (LAN) to Kongsberg Maritime's systems. Up to twelve serial lines signals, pulse and sync signals RGB VESA video signals...
Open the catalog to page 2
All Kongsberg Maritime catalogs and brochures

Archived catalogs

Compare up to 10 products