Catalogs

>

Vessel motion monitoring
Catalog excerpts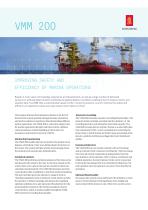 IMPROVING SAFETY AND EFFICIENCY OF MARINE OPERATIONS Based on many years of knowledge, experience and development, as well as a large number of delivered sensors for attitude determination worldwide, Kongsberg Seatex now offers a software tool to analyze motion and weather data. The VMM 200, a sophisticated vessel motion monitoring solution, is set to improve the safety and efficiency of operations where accurate vessel motion data is critical. This unique attitude determination solution is the first of its kind and is made possible through decades of position and motion reference experience from demanding offshore marine operations. The VMM 200 is a decision support tool for marine operation like light well intervention, offshore crane operations, module handling on deck and over moonpool, and launch & recovery of ROVs. Motion limit monitoring The VMM 200 enables the user to monitor the motion in six degrees-of-freedom of any user defined point of interest on the vessel. The system will give alarms and warnings when the motion level exceeds user-defined limits. Statistical analysis The VMM 200 performs statistical analysis of the time series and presents the result to the user in real time. Based on the sensor input over a given time period, statistical values are calculated and presented. The VMM 200 presents real time vessel motion data in addition to real time statistical analysis. The user interface gives the operator a range of tools to visualize parameters such as trends in vessel motion to help the operator to define warnings and alarms thus enabling optimal conditions for a safe operation.The platform for the trend analysis is based on the statistical analysis of prior vessel motion, which is made possible through the VMM 200's extensive recording functionality. Extensive recording The VMM 200 includes extensive recording functionality. The amount of data variables recorded and the duration of the recording period is only limited by hard-disk capacity. The VMM 200 records data on a binary format at a selectable data rate (maximum 10 Hz). A tool is available for converting the binary data to ASCII-format for further post-processing of the data in a preferred software package like Excel, Matlab and similar. System architecture The VMM 200 is a two module solution with a Processing and an Operator Unit connected via Ethernet. The Processing Unit runs all critical computations independent from the user interface on the Operator Unit to ensure continuous and reliable operation. Several Operator Units can be connected to the same Processing Unit in a networked architecture. On each operator unit, the operator can select views that fits his operation. Optional functionality On request the system can be delivered with interface to wave sensor. On the Operator Unit significant wave height and wave period will be shown in one of the views on the screen.
Open the catalog to page 1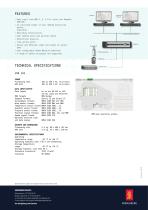 • Data input from MRU H, E, 5 & 5+ units and Seapath 200/300 • An unlimited number of user defined monitoring points available • Recording functionality Local Area Network (Ethernet) • User defined alarm and warning limits • Statistical analysis • Time-series plots • Serial and Ethernet input and output of sensor data • User configurable Human-Machine-Interface Wind sensor input • A range of sensor protocols are supported TECHNICAL SPECIFICATIONS Seapath input VMM 200 POWER Processing Unit HMI Unit DATA INPUT/OUTPUT Data inputs Up to six RS-232 or 422 serial lines and Ethernet MRU formats...
Open the catalog to page 2
All Kongsberg Maritime catalogs and brochures

Archived catalogs

Compare up to 10 products