Catalogs

>

OS-650-DP
Catalog excerpts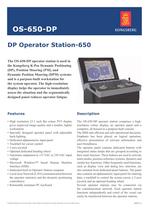 The OS-650-DP operator station is used in the Kongsberg K-Pos Dynamic Positioning Dynamic Position Mooring (DPM) systems the system operator. The high-resolution display helps the operator to immediately assess the situation and the ergonomically designed panel reduces operator fatigue. • High resolution 23.1 inch flat colour TFT display gives improved image quality and a smaller, lighter • Specially designed operator panel with adjustable • Dedicated alphanumeric input panel • Trackball for cursor control • Optional dedicated heading wheel • Automatic adaptation to 115 VAC or 230 VAC input • Microsoft Windows™ based Human Machine • Dedicated built-in Operator Station computer • Local Area Network (LAN) communication between the operator station(s) and the dynamic positioning • Retractable miniature PC keyboard The OS-650-DP operator station comprises a high- resolution colour display, an operator panel and a computer, all housed in a purpose-built console. The HMI aids efficient and safe operational decisions. Emphasis has been placed on logical operation, effective presentation of relevant information and The operator panel contains dedicated buttons with integrated status lamps that are grouped according to their main function. These buttons are used to activate main modes, position-reference systems, thrusters and similar key functions. Other frequently used functions, such as display view and dialog box selection, are also initiated from dedicated panel buttons. The panel also contains an alphanumeric input panel for entering data, a trackball to control the screen cursor, a 3-axis joystick and an optional heading wheel. Several operator stations may be connected via the communication network. Each operator station functions independently and cotrol of the vessel can easily be transferred between the operator stations. Kongsberg Maritime reserves the right to make changes to the material or product described, at any time without notice.
Open the catalog to page 1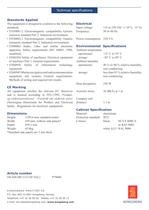 Technical specifications Standards Applied The equipment is designed to conform to the following • EN50081-2 Electromagnetic compatibility Generic emission standard Part 2: Industrial environment. • EN50082-2 Electromagnetic compatibility Generic immunity standard Part 2: Industrial environment. • EN60065 Audio, video and similar electronic apparatus. Safety requirements (IEC 60065: 1998, • EN60204 Safety of machinery Electrical equipment of machines Part 1 : General requirements. • EN60950 Safety of information technology • EN60945 Marine navigation and radiocommunication equipment and...
Open the catalog to page 2
All Kongsberg Maritime catalogs and brochures

Archived catalogs

Compare up to 10 products