Catalogs

>

Hugin product specification
Catalog excerpts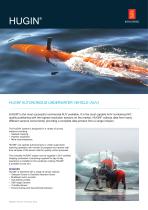 HUGIN® AUTONOMOUS UNDERWATER VEHICLE (AUV)HUGIN® is the most successful commercial AUV available. It is the most capable AUV combining IHO quality positioning with the highest resolution sensors on the market. HUGIN® collects data from many different sensors concurrently, providing a complete data product from a single mission. The HUGIN® system is designed for a variety of survey missions including: • Seabed mapping • Pipeline inspection • Mine reconnaissance HUGIN® can operate autonomously or under supervision, meaning operators can monitor its progress and receive realtime samples of the sensor data for quality control purposes. The complete HUGIN® system can be supplied in DnV certified shipping containers. Everything required for day-to-day operations is installed in the containers making HUGIN® a portable survey tool. SENSORS HUGIN® is delivered with a range of sensor options: • Sidescan Sonar or Synthetic Aperture Sonar • Multibeam echo sounder • Sub-bottom profiler • Still Image Camera • Turbidity Sensor • Environmental and Geochemical Sensors.
Open the catalog to page 1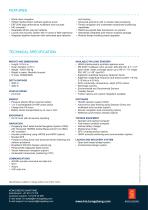 • World class navigation • HISAS interferometric synthetic aperture sonar • EM® 2040 high performance multibeam echo sounder • IHO compliant • Swappable lithium polymer batteries • Launch and recovery system with 15 years of field experience • Integrated pipeline inspection with automated pipe detection and tracking • Advanced autonomy with in-mission data processing • Terrain navigation and underwater transponder positioning capabilities • Real-time payload data transmission to operator • Seamlessly integrated post-mission analysis package • Modular design enabling simple upgrades WEIGHT...
Open the catalog to page 2
All Kongsberg Maritime catalogs and brochures

Archived catalogs

Compare up to 10 products