Catalogs

>

HPR 418
Catalog excerpts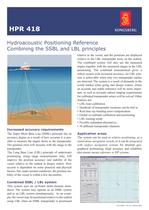 Hydroacoustic Positioning Reference Combining the SSBL and LBL principles Increased accuracy requirements The Super Short Base Line (SSBL) principle has its accuracy degree as a result of how accurate it is pos- sible to measure the angles down to the transponder. The position error will increase with the range to the The Long Base Line (LBL) principle of underwater positioning, using range measurements only, will improve the position accuracy and stability of the vessel relative to the seabed in deeper waters. How accurat is dependent on some practical and physical factors, but, under normal conditions, the position sta- bility of the vessel is within a few decimetres. Combined SSBL / LBL system This system uses an on-board multi-element trans- ducer. The system may operate as an SSBL system and as an LBL system simultaneously. As an exam- ple, the vessel may be positioned relative to the seabed using LBL when an SSBL transponder is positioned relative to the vessel, and the positions are displayed relative to the LBL transponder array on the seabed. The combined system will also use the measured angles together with the measured ranges in the LBL positioning. The combined measurement gives a robust system with increased accuracy. An LBL solu- tion is achievable when only two transponder replies are detected. The system is a result of demands in the world market when going into deeper waters, where an accurate and stable reference will be more impor- tant, as well as accurate subsea ranging requirements for calibrated transponder arrays will be solved. Other • Hundreds of transponder locations can be tied in • Real time ray-bending error compensation • Global co-ordinate calibration and positioning • Flexible redundant alternatives • 56 different transponder channels Application areas The system can be used in relative positioning, as a stand-alone navigation system, or it can be integrated with surface navigation systems for absolute geo- graphical positioning. High accuracy and reliability also ensure secure reference to DP systems.
Open the catalog to page 1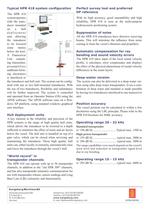 Hoist Control Typical HPR 418 system configuration system operates ducer mounted unit, allowing some metres Unit contain- the transducer and hull unit. The system can be config- ured with one or two hull-mounted transducers. With the use of two transducers, flexibility and redundancy will be further improved. The system is controlled and operated from an Operator Station (OS) using the APOS software. The APOS software runs on a Win- dows XP platform, using standard windows graphical user interface. Hull deployment units A key element in the reliability and precision of the HPR systems is...
Open the catalog to page 2
All Kongsberg Maritime catalogs and brochures

Archived catalogs

Compare up to 10 products