Catalogs

>

EELUME500
Catalog excerpts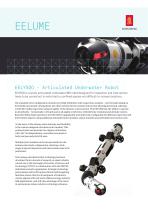 EELUME EELY500 - Articulated Underwater Robot EELY500 is a small, articulated underwater IMR robot designed for inspection and intervention tasks to be carried out in restricted or confined spaces and difficult-to-access locations. The standard robot configuration includes two High Definition video inspection modules - one forward looking on the flexible articulated viewing head, the other mounted in the central body section allowing downward, sideways or full 360° radial inspection using the agility of the thruster control system. The EELY500 has the ability to operate in all attitudes - horizontally, vertically and at all angles in between, with full body rotational and attitude control. Rated for 500m depth operation, the EELY500 is upgradeable and multi-task configurable for different inspection and intervention tasks by using additional articulated joint modules, sensor modules and selectable intervention tools. At the heart of the Eelume robot dexterity and flexibility is the custom-designed articulated joint module. This powered joint unit provides two degrees of freedom, with ±80° of independently controlled movement in both yaw/pan and pitch/tilt axes. Multiple joint modules can be incorporated into the Eelume robot body configuration, allowing a wide range of special inspection and intervention tasks to be performed. This unique articulated robot technology has been developed from a decade of research on snake robotics carried out at the Norwegian University of Science and Technology (NTNU) in collaboration with the SINTEF industrial research organisation. Strategic technology partnerships with both Equinor/Statoil and Kongsberg Maritime ensure that the development of Eelume is closely aligned with real world offshore energy industry IMR applications, and will take advantage of the latest in autonomous subsea robotics technology advances.
Open the catalog to page 1
Confined space and restricted access inspections Slim articulated viewing head [020cm] Highly agile / manoeuvrable C6 degrees of freedom] All attitude operation [horizontal, vertical, rotational] Integral attitude, heading, depth and altitude sensors 2 x Independent HD video camera inspection capability: -lx forward looking HD inspection camera on articulated viewing head C2 x DoF with ±80° movement on each axis] -lx mid-body HD inspection camera Cdownward, sideways or full 360° rotational inspection capability] Local or distance remote control over Ethernet link Easy to deploy and...
Open the catalog to page 2
All Kongsberg Maritime catalogs and brochures

Archived catalogs

Compare up to 10 products