Catalogs

>

DARPS 116
Catalog excerpts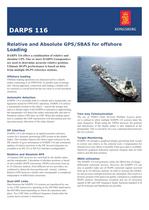 Relative and Absolute GPS/SBAS for offshore DARPS 116 offers a combination of relative and absolute GPS. One or more DARPS transponders are used to determine accurate relative position. Ultimate DGPS performance is based on data from multiple DGPS reference stations. Offshore loading Offshore loading operations are characterized by a shuttle tanker connecting to an FPSO/FSU or another type of storage unit. During approach, connection and loading a reliable rela- tive position is crucial between the two units to avoid unwanted Automatic detection DARPS 116 is available both in a shuttle and a transponder con- figuration suited for FPSO/FSU operation. DARPS 116 utilizes a transponder located on the object - typical the storage unit. and as a shuttle tanker with DARPS in operation is approaching the transponder will detect the tanker automatically and start to broadcast relative GPS data via UHF. When the loading opera- tion is complete the UHF transmission will discontinue prevent- ing unnecessary allocation of the radio channel. DARPS 116 is developed as an optimal position reference system for a dynamic positioning (DP) system at the shuttle tanker. This includes features like direct target selection by the DP, transfer of gyro information to DARPS 116 and continuous updates of relative positions to the DP. Several telegrams are available at anRS-232 orRS-422 interface (configurable). 14-channel GPS receivers are used both by the shuttle tanker and the transponder. Calculation of absolute positions is based on all available DGPS corrections. DGPS corrections from up to 24 reference stations, from different service providers, are combined to obtain the best position and velocity solution. Relative GPS between a shuttle and a transponder is completely independent of differential corrections. Data between the DARPS 116 systems are transferred by one or two UHF transceivers operating in the 450 MHz band and/or the 860 MHz band depending on where the operations take place. Two UHF links in different frequency bands make the system more resistant to interference. Two-way Communication The use of TDMA (Time Division Multiple Access) proto- col is utilised to allow multiple DARPS 116 systems share the same frequency. When using the TDMA protocol, the position and dimensions of the shuttle tanker is also displayed at the transponder. This is solved by two-way communication between Target Monitoring DARPS 116 includes a graphical display presenting both vessels in correct size relative to the selected scale. Compensation for antenna lever arm offsets is possible when gyro data is available. Intuitively graphical indicators represent integrity data for both relative and absolute position. SBAS utilization The DARPS 116 will primarily utilise the SBAS free of charge differential correction services. However, the DARPS 116 can also in parallel make use of DGPS correction signals received from up to 24 reference stations. In order to increase the reliabil- ity and accuracy multiple positions are calculated. This result in a primary position with improved quality compared to a traditional DGPS solution. Simultaneous reception and use of correction signals in MF and UHF frequency bands, Inmarsat standard A, B and M terminals and Spotbeam are possible.
Open the catalog to page 1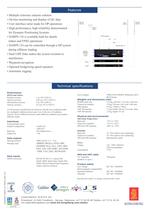 ■ Multiple reference stations solution ■ On-line monitoring and display of QC data ■ User interface tailor made for DP operations ■ High performance, high reliability demonstrated for Dynamic Positioning Systems ■ DAPvPS 116 is available both for shuttle tanker and FPSO operations ■ DAPvPS 116 can be controlled through a DP system during offshore loading ■ Dual UHF links makes the system resistant to ■ Optional bridgewing speed repeaters Technical specifications Position accuracy Velocity accuracy Velocity accuracy (*) All accuracy specifications are based on real-life tests conducted under...
Open the catalog to page 2
All Kongsberg Maritime catalogs and brochures

Archived catalogs

Compare up to 10 products