Catalogs

>

cJoy WT
Catalog excerpts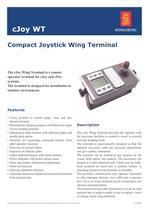 Compact Joystick Wing Terminal The cJoy Wing Terminal is a remote operator terminal for cJoy and cPos The terminal is designed for installation in outdoor environment. • 3-axis joystick to control surge, sway and yaw thruster demand • Monochrome heading display with buttons for input • Operational mode buttons with indicator lights and double-push action • Function for requesting command transfer from other operator locations • Selection of joy stick thrust • Selection of rotation centre • Alarm indicator/buzzer with silence button • Power indicator with power failure alarm • Panel and display illumination adjustment • Panel test function • Joystick calibration function • Automatic detection of panel location and orientation The cJoy Wing Terminal provides the operator with the necessary facilities to control a vessel in joystick and auto heading mode. The terminal is ergonomically designed so that the operator can easily make the necessary adjustments and give control commands. The terminal can be located at any location on the vessel, both indoor and outdoor. The electronics are housed in a self-contained unit, which may be bulk- head mounted or insert into a suitable surface. A mounting bracket for the terminal is available. The terminal is interfaced to cJoy Operator Terminals or cPos Operator Stations via a cable and a junction box. Up to six wing terminals can be connected to one operator terminal/station. The terminal location and orientation is set up on each junction box in order to make it easy to replace, move or change round wing terminals. Kongsberg Maritime reserves the right to make changes to the material or product described, at any time without notice.
Open the catalog to page 1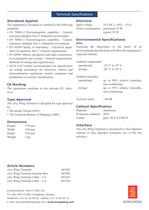 Technical Specifications Standards Applied The equipment is designed to conform to the following • EN 50081-2 Electromagnetic capability - Generic emission standard, Part 2: Industrial environment. • EN 50082-2 Electromagnetic capability - Generic immunity standard, Part 2: Industrial environment. • EN 60204 Safety of machinery - Electrical equip- ment of machines, Part 1 : General requirements. • EN 60945 Marine navigation and radio communica- tion equipment and systems - General requirements: Methods of testing and required tests. • IACS E10 Unified environmental test specification for...
Open the catalog to page 2
All Kongsberg Maritime catalogs and brochures

Archived catalogs

Compare up to 10 products