Catalogs

>

cC-1
Catalog excerpts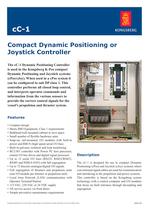 Compact Dynamic Positioning or Joystick Controller The cC-l Dynamic Positioning Controller is used in the Kongsberg K-Pos compact Dynamic Positioning and Joystick systems (cPos/cJoy). When used in a cPos system it can be configured to suit DP class 1. This controller performs all closed loop control, and interprets operator commands and information from the various sensors to provide the correct control signals for the vessel's propulsion and thruster system. • Compact design • Meets IMO Equipment, Class 1 requirements • Bulkhead/wall mounted cabinet to save space • Small number of flexible hardware units • Snap-on, rail-mounted, I/O modules with built-in power and RBUS (high speed serial I/O bus) • Built-in galvanic isolation and loop monitoring • RCU501 controller with Power PC host processor, remote I/O bus driver and digital signal processor RS485 and NMEA 0183) with full segregation • Up to 72 discrete analogue/digital I/O signals • Full segregation of thrusters and propulsion units (one I/O module per thruster or propulsion unit) • Local Area Network (LAN) communication with Operator Terminal/Station • All service access via front doors • Simple preventive maintenance requirements The cC-l is designed for use in compact Dynamic Positioning (cPos) and Joystick (cJoy) systems where conventional signal cables are used for communication and interfacing to the propulsion and power systems. This controller is based on the Kongsberg system technology with a control computer and I/O modules that focus on fault tolerance through decoupling and Kongsberg Maritime reserves the right to make changes to the material or product described, at any time without notice.
Open the catalog to page 1
Technical Specifications Standards Applied The equipment is designed to conform to the following • EN 50081-2 Electromagnetic capability - Generic emission standard, Part 2: Industrial environment. • EN 50082-2 Electromagnetic capability - Generic immunity standard, Part 2: Industrial environment. • EN 60204 Safety of machinery - Electrical equipment of machines, Part 1: General requirements. • EN 60945 Marine navigation and radio communication equipment and systems - General requirements: Methods of testing and required tests. • IACS E10 Unified environmental test specification for testing...
Open the catalog to page 2
All Kongsberg Maritime catalogs and brochures

Archived catalogs

Compare up to 10 products