Catalogs

>

AIS 200 P
Catalog excerpts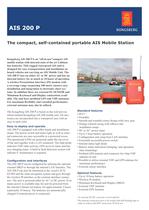 The compact, self-contained portable AIS Mobile Station mobile station with internal state of the art Lithium Ion batteries. This rugged waterproof AIS unit is designed for easy transportation and installation on board vehicles not carrying an AIS Mobile Unit. The AIS 200 P runs on either AC or DC power and has an internal battery for as much as 10 hours of operation. A wireless Presentation Interface (PI) modem with a coverage range surpassing 100 meter ensures easy installation and integration to electronic chart sys- tems. In addition there are external PI, SENSOR and Minimum Keyboard and Display connections avail- able. The unit have prefitted GPS and VHF antennas. For maximum flexibility and extended performance external antennas may also be utlized. The Kongsberg AIS 200 P is based on the well proven wheel-marked Kongsberg AIS 200 mobile unit. All elec- tronics are incorporated into a waterproof case with an easy-to-spot color. Easy to deploy and operate AIS 200 P is equipped with reflex bands and installation straps. The power switch and status light as well as exter- nal connectors are easy accessible in a protected recess. The operational LEDs are protected under the top cover of the unit together with a LAN connector. The light diode indicates VHF radio activity, GPS receiver status and bat- tery charging status. A built-in fault detection system will indicate if maintenance is required. The AIS 200 P can be configured by utilizing the optional external MKD or through the internal LAN interface. The AIS 200 P can also be interfaced to the vessel's ECS/ ECDIS and the main navigation system and gyro through the wireless PI interface or the external interface connec- tors. The unit is powered either by AC1 or DC power. If no mains power is available may the unit be powered from the internal Lithium ion battery for approximately 5 hours (optionally 10 hours). The batteries are automatically charged if external power is connected. Standard features • Smooth and rounded corner design with carry grip • Orange colored casing with reflexes and installation straps • Up to 5 hour battery operation • Configuration and setup from LAN interface • Externally accessible power switch • Internal status light diode • Battery status indication (charging- and operation time remaining) • Prefitted GPS antenna and connector for whip VHF • Possible to utilize external VHF and GPS antenna for maximum performance • External sensor interface Optional features • Up to 10 hour battery operation • Minimum Keyboard and Display (MKD) ' An external AC/DC converter is to be utilized 2 The antenna connectors have to be sealed with Self-bonding tape in order to achieve full IF'67 protection. IP 66 if not.
Open the catalog to page 1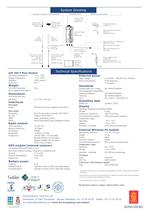 System Drawing OPTIONAL ANTENNA CONFIGURATION with connectors with connectors STANDARD PARTS OPTIONAL ACCESSORIES Cable, Wireless PI modem Power supply, AC/DC Technical Specifications Operating temperature: Storage temperature: (excl. antennas and cables) Data input Data output Radio module Receiver sensitivity: External power Input voltage: Power consumption: Seatex proprietary format RS232 (unisolated), Seatex proprietary format Product safety low voltage: Electromagnetic compatibility Reliability data Minimum Keyboard and Display (MKD) GPS module (internal receiver) 12 Channel GPS...
Open the catalog to page 2
All Kongsberg Maritime catalogs and brochures

Archived catalogs

Compare up to 10 products