Catalogs

>

DYNICE 75... as buoy ropes & pennants
Catalog excerpts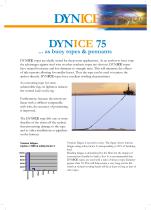 ... as buoy ropes & pennants DYNICE ropes are ideally suited for deep-water applications. As an anchor to buoy rope the advantages against steel wire or other synthetic ropes are obvious. DYNICE ropes have neutral buoyancy and low diameter to strength ratio. This will minimize the effects of tide currents allowing for smaller buoys. Thus the rope can be used to retrieve the anchor directly. DYNICE ropes have excellent winding characteristics. As a mooring rope for semisubmersible rigs, its lightness reduces the vertical load on the rig. Furthermore, because the inserts are linear with a stiffness comparable with wire, the accuracy of positioning is improved. The DYNICE rope lifts one or more shackles of the chain off the seabed, thus preventing damage to the rope and to other installations or pipelines on the bottom. Tension fatigue: Cycles x 1000 at safety factor 2 10000 8000 6000 4000 Tension fatigue is second to none. The figure shows tension fatigue using safety factor 2 corresponding to 50% of breaking load. Bending fatigue is determined by the fibre but the impact of construction (braided or laid) is low. It is recommended that DYNICE ropes are used with a ratio of sheave/rope diameter greater than 10. This will help ensure a very long service life which at normal working loads will be at least as long as that of wire ropes.
Open the catalog to page 1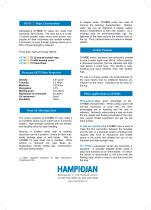 Hampidjan's DYNICE 75 ropes are made from Dyneema1 SK75 fibres. The main focus is on the 12-strand braided ropes which have proven very popular for their roundness and smooth surface. Termination is easy through splicing where up to 90% of linear strength is retained. Three basic types are being offered: • DYNICE 75 12-strand braided rope • DYNICE 75 with braided cover • DYNICE 75 Cable Rope Resistance to chemicals Excellent Flexibility Good Insert & Mooring Lines The unique qualities of DYNICE 75 rope make it an excellent choice as an insert line in a mooring system. High strength...
Open the catalog to page 2
All JSC Hampidjan Baltic catalogs and brochures

Compare up to 10 products