Catalogs

>

DYNICE 60
Catalog excerpts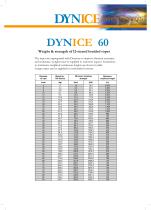 DYNICE 60Weight & strength of 12-strand braided ropes The ropes are impregnated with Duracoat to improve abrasion resistance and endurance. Lenghts may be supplied to customer request. Limitations to maximum, unspliced continuous lenghts are shown in table. Longer ropes can be supplied in overbraided versions.
Open the catalog to page 1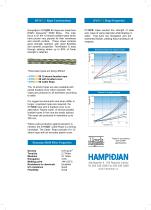 DYNICE Rope Constructions DYNICE ropes exceed the strength of steel wire ropes of same diameter while floating on water. They have low elongation and are extremely flexible, yielding easy handling in all respects. Breaking strength and weight of ropes Hampidjan's DYNICE 60 ropes are made from DSM's Dyneema® SK60 fibres. The main focus is on the 12-strand braided ropes which have proven very popular for their roundness and smooth surface. These ropes combine good strength retention with good flexibility and dynamic properties. Termination is easy through splicing where up to 90% of linear...
Open the catalog to page 2
All JSC Hampidjan Baltic catalogs and brochures

Compare up to 10 products