Catalogs

>

734 R Series EndLite
Catalog excerpts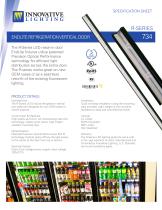 SPECIFICATION SHEET ENDLITE REFRIGERATION VERTICAL DOOR The R-Series LED reach-in door EndLite fixtures utilize patented Precision Optical Performance technology for efficient light distribution across the entire door. The R-series works great on new OEM cases or as a seamless retro-fit of the existing fluorescent lighting. PRODUCT DETAILS Intended Use The R-Series LED EndLite refrigeration vertical door lights are designed for new OEM cases or retrofit projects. Installation Quick and easy installation using the mounting clips provided. Light weight of the luminaire facilitates an easy and cost-effective install. Construction & Materials High quality aluminum rail incorporating heat sink technology, shatter proof optics, high impact resistant mounting clips. Listings UL Listed RoHS Compliant NSF Listed DLC Qualified Optical System Patented Precision Optical Performance (P .) .O.P technology. EndLite optics diffuse the light evenly to the center of the door from top to bottom. Electrical System Class 2 low voltage power supply; Input voltage 120V-277V Warranty The R-Series LED lighting products come with a f ive year warranty for parts manufactured and furnished by Innovative Lighting, LLC. Standard terms and conditions apply.
Open the catalog to page 1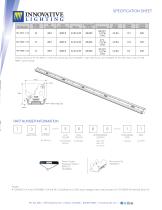 SPECIFICATION SHEET Part Number Color temperature Input Weight Energy (Watts) Lumens (typical) Efficacy values are for 751-50XX-4 1 Door Kits consisting of one 734-50XX-1 right side fixture, one 734-50XX-1A left side fixture, and one 7509995-1 power supply. PART NUMBER INFORMATION LENS TYPE RAIL COLOR Power Supply Regulated Class 2 60W/12V 750-9995-1 APPROXIMATE LENGTH PACKAGING TYPE Notes: • 734-5072-1/1A and 734-5060-1/1A are DLC Qualified for a 120V input voltage when used as part of a 751-50XX-4-N Vertical Door Kit P Box 366 | 109 Progressive Ave | Roland, IA 50236 | 800-949-4888 |...
Open the catalog to page 2
All Innovative Lighting Corp catalogs and brochures
Compare up to 10 products