Catalogs

>

Icom

>

SR-VPN1
Catalog excerpts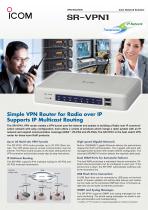 Icom Network Solution Simple VPN Router for Radio over IP Supports IP Multicast Routing The SR-VPN1, VPN router creates a VPN tunnel over the Internet and assists in building a Radio over IP communication network with easy configuration. Icom offers a variety of products which merge a radio system with an IP network and expand communication coverage (IDAS™, VE-PG3 and VE-PG2). The SR-VPN1 is the best match VPN router for these Icom RoIP products. Up to 32 Multi-site VPN Tunnels High-speed Gigabit Network The SR-VPN1, VPN router provides up to 32 VPN IPsec tunnels. The VPN allows secure, private communication over the Internet. The IPsec wizard focuses on the basic setting items for VPN connection and provides simple step-by-step instructions. Built-in 1000BASE-T gigabit Ethernet delivers the performance required for RoIP communication. The 4 gigabit LAN ports with managed switch function offer simple network configuration. The automatic MDI/MDI-X function detects the required cable types. Dual WAN Ports for Automatic Failover The SR-VPN1 supports IPv4 multicast routing for VE-PG3 and VE-PG2 multicast transmission. The dual WAN ports keep a redundant Internet connection. Different internet providers can be configured to each port. If the primary line is down, the SR-VPN1 automatically switches over to the secondary line. USB Flash Drive Connection A USB flash drive can be connected to USB ports on the front panel. Firmware updates and setting data backup and restore can be made via the connected USB flash drive. A firmware update also can be made via Internet connection. SNMP and Syslog Messages Radio Site Radio Site Radio Site The SR-VPN1 supports SNMP and syslog messages for network monitoring. The stored syslog messages can assist in system administration and troubleshooting. * A xDSL or FTTH modem is required separately for Internet connection.
Open the catalog to page 1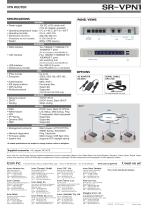 PANEL VIEWS GENERAL • Power supply : 12V DC ±10% (main unit) (12V AC adapter supplied.) • Operating temperature range : 0˚C to +40˚C; 32˚F to +104˚F • Operating humidity : 5% to +95% RH : 232×38×168 mm; • Dimensions (W×H×D) (Projections are not included) 9.13×1.5×6.61 in • Weight : 800g; 1.76lb (approx.) : Four 10BASE-T/100BASE-TX/ 1000BASE-T ports with switching hub (RJ-45 connectors, Auto MDI/MDI-X) Firmware update (RJ-45 connectors, Auto MDI/MDI-X) • USB interface • Maintenance console • IPsec tunnels • Encryption • Authentication • IKE keying method • NAT traversal • Multicast protocol...
Open the catalog to page 2
All Icom catalogs and brochures

Archived catalogs

Compare up to 10 products