Catalogs

>

Icom

>

MXA 5000
Catalog excerpts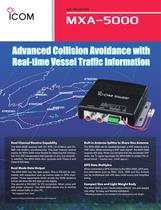 Advanced Collision Avoidance with Real-time Vessel Traffic Information ""■oio ~r~J Dual Channel Receive Capability 88B (162.025MHz) simultaneously. This dual channel receive makes the MXA-5000 more flexible for obtaining AIS informa- tion from AIS transponders that operate on only one channel. In addition, the MXA-5000 also receives both Class A and Class BAIS data. Dual Mode Data Output nection with equipment such as marine radar or GPS chart- plotter. Those equipments which accept the VDM sentence format will show the AIS data on the display. The second is RS-232C for PC connection. When using with AIS plotter software*, the MXA-5000 allows you to monitor other vessel traffic on your PC. * Not supplied from Icom. Built-in Antenna Splitter to Share One Antenna The MXA-5000 can be installed between a VHF antenna and a VHF radio. While receiving a VHF radio signal*, the MXA-5000 receives AIS data. When you transmit from the connected VHF radio, the Tx signal bypasses the MXA-5000 to protect the in- ternal circuit. * Insertion loss : 3.5dB (approx.) When connected a GPS receiver to the MXA-5000, GPS posi- tion information such as RMC, GGA, GNS and GLL formats can be multiplexed with AIS data (VDM format) and simplifies Compact Size and Light Weight Body only 400g* for easy and flexible installation. * Mounting bracket is not included in the dimensions and weight. The above background illustration shows AIS screen image only.
Open the catalog to page 1

Icom's MXA-5000 AIS (Automatic Identification System) receiver will pick up real-time transmissions from vessels that use an AIS transponder. Such transponders are now required for SOLAS ves- sels by SOLAS regulations. The AIS transponder sends accurate navigation information such as: •Static Information —Vessel call sign, name, MMSI number, di- mensions, type • Voyage-Related Information — Draft, cargo type, destination and estimated time of arrival • Dynamic Information — Time in universal time, coordinated, lati- tude/longitude position, course over ground, speed over ground, heading,...
Open the catalog to page 2
All Icom catalogs and brochures

Archived catalogs

Compare up to 10 products