Catalogs

>

Icom

>

MARINE RADAR MR 1000
Catalog excerpts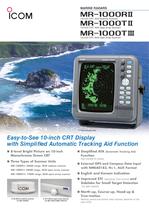 MARINE RADARS (10-inch CRT, 4kW Open Array Scanner) (10-inch CRT, 6kW Open Array Scanner) with Simplified Automatic Tracking Aid Function Three Types of Scanner Units MR-IOOORII: 36NM range, 4kW radome scanner MR-IOOOTII: 48NM range, 4kW open array scanner MR-IOOOTIII: 72NM range, 6kW open array scanner > 4ft (120cm) open array scanner • Simplified ATA (Automatic Tracking Aid) • External GPS and Compass Data Input • English and Korean Indication • Improved STC (Sensitivity Time Control) and Sidelobe for Small Target Detection • North-up, Course-up, Head-up & Bearing, speed and position data required, depends on dis- play mode.
Open the catalog to page 1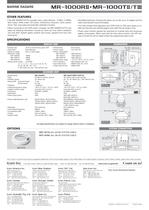 MARINE RADARS MR-IOOORH • MR-IOOOTII/TIII OTHER FEATURES •The MR-1000RII/TII/TIII provides many useful features : 2 EBL's, 2 VRM's, SEA clutter, RAIN clutter, Off center, Interference reduction, Echo stretch, Zoom, Trail, long pulse and automatic calibration function. •When connected to the GPS and/or compass, the MR-1000RII/TII/TIII dis- plays the following information: Course-up, North-up, True motion indication, own and other vessel's speed, position and course, waypoint and man over- board point. • Simplified Automatic Tracking Aid allows you to plot up to 10 targets and the radar...
Open the catalog to page 2
All Icom catalogs and brochures

Archived catalogs

Compare up to 10 products