Catalogs

>

Icom

>

IC-M400BB
Catalog excerpts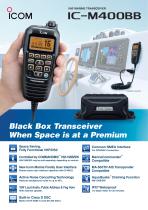 Installation example Black Box Transceiver When Space is at a Premium SPACE SAVING Space Saving, Fully Functional VHF/DSC Controlled by COMMANDMIC™ HM-195B/SW COMMANDMIC ™ HM-195B/SW may be sold separately, depending on version. MARINECOMMANDER COMPATIBLE New Icom Marine Family User Interface NEW INTERFACE Shares same user interface operation with IC-M423. Reduces background noise to up to 90%. 10W Loud Audio, Public Address & Fog Horn 10W LOUD AUDIO & FOG HORN With external speaker. Built-in Class D DSC BUILT-IN CLASS D DSC MarineCommander™ Compatible MA-500TR AIS Transponder Compatible AquaQuake™ Draining Function Active Noise Cancelling Technology ACTIVE NOISE CANCEL Common NMEA Interface 1m depth water for 30 minutes.
Open the catalog to page 1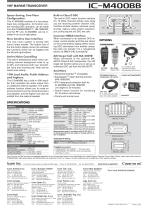 VHF MARINE TRANSCEIVER Space-Saving, Two-Piece Conguration The IC-M400BB consists of a two-piece, black box configuration. All function control including DSC operation, can be made from the COMMANDMIC™, HM-195B/SW, and the RF unit, IC-M400BB, can be installed in an out-of-sight place. New Intuitive User Interface Built-in Class D DSC The built-in DSC watch function monitors Ch. 70 (DSC channel) activity, even while you are receiving another channel. DSC functions include: distress, individual, group, all ships, urgency, safety, position request/report, polling request and DSC test calls....
Open the catalog to page 2
All Icom catalogs and brochures

Archived catalogs

Compare up to 10 products