Catalogs

>

Icom

>

IC-F5061D, IC-F6061D
Catalog excerpts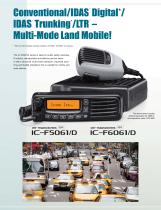 Conventional/IDAS Digital*/ IDAS Trunking*/LTR – Multi-Mode Land Mobile! ™ * With UT-126H installed. Already installed to IC-F5061, IC-F6061 "D" versions. The IC-F5061/D series is ideal for public safety, business & industry, transportation and delivery service users. It offers advanced multi-mode operation, improved scanning and flexible installation that is suitable for mobile and base stations. The above photo includes optional separation kit, RMK-3, and separation cable, OPC-609.
Open the catalog to page 2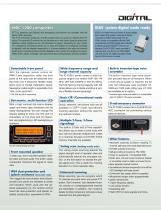 IDAS system digital mode ready ™ PTT ID, selective call (Selcall) and emergency call features are available with the built-in MDC signaling. The PTT ID function sends your unit ID number when you push (or release) the PTT button. The received ID number can be decoded as a user name using the alias table. Selective calling enables you to call individuals or groups, depending on your needs. The emergency call feature allows you to send and repeat an emergency message to dispatch until the dispatch responds to it. In these situations, the radio can transmit anything the microphone hears and...
Open the catalog to page 3
IC-F6061D, IC-F6061 RECEIVER Sensitivity (at 12dB SINAD) GENERAL Frequency coverage Number of channels Type of emission Channel spacing Power supply requirement Current drain (approx.) Tx High (50W/45W) Rx Max. audio/Stand-by Antenna impedance Operating temperature range Dimensions (W×H×D) (Projections not included) Weight (approx.) TRANSMITTER Output power (at 13.6V DC) Max. frequency deviation Frequency stability Spurious emissions FM Hum and noise Audio harmonic distortion Modulation limiting FSK error Ext. microphone impedance 0.25µV typ. 0.20µV typ. 85/75dB typ. (Wide/Narrow) 90dB typ....
Open the catalog to page 4
All Icom catalogs and brochures

Archived catalogs

Compare up to 10 products