Catalogs

>

Icom

>

GMDSS Radios
Catalog excerpts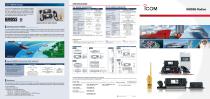 SPECIFICATIONS VHF MARINE TRANSCEIVERS MF/HF MARINE TRANSCEIVER Icom's line-up of GMDSS radio communication equipment includes the GM800 MF/HF radio transceiver, GM600 VHF radio transceiver and the IC-GM1600E VHF radio for survival craft. All these radios comply with the EU Marine Equipment Directive (MED) to be carried and used on ships registered under the European Union. GMDSS MF/HF/VHF RADIO STATION | Operating overview of GMDSS The Global Maritime Distress and Safety System (GMDSS) is the International radio safety system for ships mandated by the International Maritime Organization (IMO). The GMDSS system provides automated distress alerting and distress communication service with location information. Ships engaged in international shipping (SOLAS vessels) are obliged to carry GMDSS communication equipment. Also, most governments have specified use of selected GMDSS systems for their regulated domestic vessels and non-regulat-ed vessels are permitted to use any GMDSS system. Frequency range (Unit: MHz) *1 Receive only. Measurements made in accordance with EN300 373-1 for GM800. Supplied accessories | Required GMDSS Communication Radio equipment * Level of requirements varies depending on model. Maintenance Ships operating in Sea Area A1 or A2 must select at least one, and ships operating in Sea Area A3 and A4 must select at least two of the following methods of maintenance. Icom GMDSS radios offer an ideal duplication solution for replacement equipment. • At sea maintenance • Shore based maintenance • Duplication of the following equipment • Sea Area A1 - a complete VHF radio station • Sea Area A2 - a complete VHF and MF radio station • Sea Area A3 - a complete VHF and, either MF/HF radio or INMARSAT station • Sea Area A4 - a complete VHF and MF/HF radio station * In some countries, required equipment may be different. Please ask your dealer for details. IC-GM1600E: • BP-252* battery pack • BC-173* battery charger • BC-147* AC adapter • MB-103Y belt clip • FA-S61V antenna (fixed) • Neck strap * Depending on version. • HM-214V hand microphone • DC power cable i • HS-98 handset • Mounting bracket kit • Mounting bracket kit DIMENSIONS INTERCONNECTION DIAGRAM GM600 All standard specifications are subjected to change without notice or obligation. Icom, Icom Inc. and the Icom logo are registered trademarks of Icom Incorporated (Japan) in Japan, the United States, the United Kingdom, Germany, France, Spain, Russia, Australia, New Zealand and/or other countries. All other trademarks are the properties of their respective holders. loom America Inc. www.icomamerica.com Icom Canada www.icomcanada.com Icom Brazil E-mail: sales@icombrazil.com Icom (Europe) GmbH www.icomeurope .com Icom Spain S.L. www.icomspain.com Icom (UK) Ltd. www.icomuk.co.uk Icom France s.a.s. www.icom-france.com Your local distributor/dealer:
Open the catalog to page 1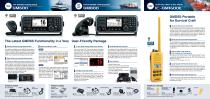 (Only for front panel) MF/HF MARINE TRANSCEIVER SURVIVAL CRAFT 2-WAY RADIO GMDSS Portable for Survival Craft Simple to Use Survival Craft Radio The IC-GM1600E Marine VHF handheld has been designed for GMDSS compliant survival craft communications. The radio is engineered to survive and function in the extreme environmental conditions common in marine emergencies. Using this simple to use radio, and operator can transmit a distress call without hesitation in an emergency. Simple operating instructions are attached to the back of the radio. The Latest GMDSS Functionality in a Very...
Open the catalog to page 2
All Icom catalogs and brochures

Archived catalogs

Compare up to 10 products