Catalogs

>

CLASS B AIS TRANSPONDER MA-500TR
Catalog excerpts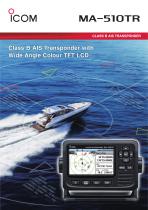 Ship type : Tug _*_jtus : Underway SHIP fl "Glass B AIS Transponder : 6.9kn / 275° : 42m x 9m 1/ length readth -au< ■ 2m ■ ■ CMTD C ■ j h Lp^ype-s~fi^hi.n g jdfatus : Underuray-Speed / Course : 7.7kn/2?2° .ength f Breadth : 20m k 8m >raug((t : 0m SHIP D Ship type : Pleasure Craft Status : Underway Speed / Course -4-&-2jiri ? 115° Le nqTfrM-fi^ead t h : 20m x 6m^\ Draught : Om
Open the catalog to page 1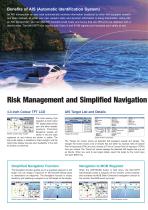 All the Advantages of AIS Transponder in an Easy to Use, Compact Design What is an AIS transponder? Simple operation The Plotter display looks like a marine radar display. CPA and TCPA for collision-risk management An AIS transponder on your boat automatically When connected to a compatible Icom VHF radio, receives information broadcast by other AIS-equipped Non-SOLAS vessels such as pleasure craft, work- North-up, course-up and range zoom from 0.125 When a vessel comes into the CPA and TCPA range, it's easy to make an individual DSC call. Select a viding 3-lines of NMEA input/output on the...
Open the catalog to page 2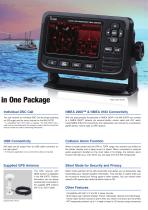 CLASS B AIS TRANSPONDER MA-5QOTRSPECIFICATIONSGENERAL DATA INTERFACE DIMENSIONS • Output power : 2W • Modulation : GMSK • Conducted spurious : Less than -36dBm Measurements made in accordance with IEC 62287-1. All stated specifications are subject to change without notice or obligation. • Rating of alert terminal : 24V DC, 500mA max. *1 To use a third party GPS receiver with the MA-500TR, a GPS receiver with RAIM function is required. *2 Depending on AIS output setting. MA-500TR contents: AIS transponder, MA-500TR • Mounting bracket kits • GPS receiver with 10m cable...
Open the catalog to page 3
All Icom France catalogs and brochures

Compare up to 10 products