Catalogs

>

IBAK

>

HGL/MA
Catalog excerpts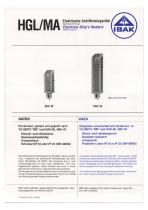 DATA Konstruiert, gebaut und gepriift nach VG 88974 "NM" und SAK-BL 4661-01 Schock- und riittelsicher Seewasserbestandig Amagnelisch Schutzart IP 54 Oder IP 23 (DIN 40050) Designed, constructed and tested acc. to VG 88974 "NM" and SAK-BL 4661-01 Shock- and vibrationproof Sea wa ter-resistant A-magnetic Protection class IP 54 or IP 23 (DIN 40050) Das elektnsche Schiftsheizgerat Typ HGL M A - Manne-Ausfuh-rung - enlsprichl den lechnischen Anforderungen des deul-schen Normblatles VG 88974. Das Heizgerat wird je nach Verwendungszweck mit Oder ohne eingebautem Aus- bzw. Regelschaller gelieferi. Diese Schalter sind auch in einem gesonderten GehSuse fur separale Anbringung heferbar. Die Heizgerate sind serienmaBig mil einem aulomatisch auslO-senden Temperalurbegrenzer ausgeriistel Er kann nur mit Hilfe von Werkzeug wieder eingeschaliei werden. The electric manne heater type HGUMA - naval version - fulfils the technical requirements of the German norm sheet VG88974. The heater is available with or without a built-in on/off or regulator switch, depending on the intended application. This switch can also be supplied in its own housing for separate mounting. The heaters are serially equipped with an automatic thermal cutout. It can only be switched on again using tools. IBAK liefert auBerdem weitere elektrische Heizgerate in den LeistungsgrdBen von 400 bis 2000 W IBAK also supplies further electric heaters with capacities from 400 to 2000W.
Open the catalog to page 1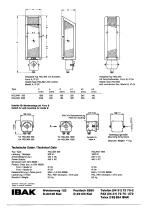 HeizgerSt Typ HGL/MA mit Schalter, Form A, IP 23 Heater Type HGL/MA with switch, Model A, IP 23 Heizgerat Typ HGL/MA mit AnschluBkasten, Form B, IP 54 Heater Type HGL/MA with connection box, Model B, IP 54 Schalter fiir Wandmontage bei Form B Switch for wall mounting for model B BefestigungsmaBe Mounting dimensions Gewicht / Weight: «1 kg Technische Daten / Technical Data Typ / Type: Leistung / Wattage: AnschluBspannung / Power Supply: Schutzart nach DIN 40050 / Protect. Class acc. to DIN 40050: Form / Model A: Form / Model B: KabeleinfOhrung / Cable gland: Lackierung / Finish: Gewicht /...
Open the catalog to page 2
All IBAK catalogs and brochures
Compare up to 10 products