Catalogs

>

AeroSpreader™ S80 Feed Broadcaster
Catalog excerpts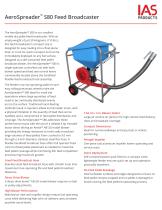 AeroSpreader™ S80 Feed Broadcaster The AeroSpreader™ S80 is our smallest mobile dry pellet feed broadcaster. With an empty weight of just 50 kilograms (110 lbs.), this feed broadcaster's compact size is designed for easy loading into a float-plane boat, or truck for quick transport and can be immediately deployed on any flat surface. Designed as a self-contained feed pellet broadcast blower, the AeroSpreader™ S80 is single operator controlled unit with both blower speed and feed rate control levers conveniently located above the handheld flexible feed broadcast hose assembly. The feeder's narrow operating platform and easy rolling pneumatic wheels make the AeroSpreader™ S80 ideal for small site operations where large quantities of feed need to be continually distributed evenly across the surface. Traditional hand-feeding methods result in operator elbow and shoulder strain, with a physical limitation in the quantity of feed that can be handled, and a compromise in feed pellet distribution and coverage. The AeroSpreader™ S80 addresses these performance issues with the use of a reliable 4 hp Honda® motor direct driving an Aerite™ AB120 model blower providing the energy necessary to continually broadcast large volumes of feed pellets from crushed to 9.0 mm through a 3-inch diameter stainless steel flex hose. A flexible handheld broadcast hose offers full operator feed control of feed pellet placement as needed to maximize feed pellet coverage while minimizing fish feed competition and ensuring maximum growth. Lined Feed Broadcast Hose Stainless steel feed broadcast hose with smooth inner liner maximizes hose operating life and feed pellet broadcast distances. Direct Drive Blower A direct drive Aerite™ AB120 model blower requires no belt or pulley adjustments. High Blower Performance Matched air inlet and impeller design reduce fuel operating costs while delivering high scfm air delivery rates at lowest possible sound levels. 7.62 cm / 3 in. Blower Outlet Large air volume air plenum for high volume feed delivery rates and broadcast coverage. Compact Dimensions Ideal for narrow walkways and easy boat or vehicle positioning. Almag® Impeller One-piece cast aluminum impeller lowers operating and service costs. Quick Deployment Self-contained power pack fitted to a compact sized, lightweight feeder ensures quick set up and operation practically anywhere. No Feed Pellet Breakage Internal feeder surfaces and edges designed to ensure no feed pellet remains trapped and no pellet is damaged or broken during the feed pellet broadcasting process.
Open the catalog to page 1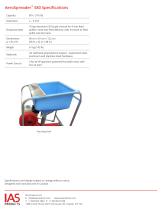 16 kg maximum (35 lb) per minute for 9 mm feed Broadcast Rate pellets. Note that feed delivery rates increase as feed pellet size decrease. Dimensions 96 cm x 81 cm x 122 cm Materials UV stabilized polyethylene hopper. Galvanized steel, aluminum and stainless steel hardware. 3 Kw (4 HP) gasoline powered Honda® motor with Power Source low oil alert. Specifications and design subject to change without notice. Designed and manufactured in Canada. IAS Products Ltd. E: info@iasproducts.com www.iasproducts.com T: +1 604.924.1844 F: +1 604.924.1848 1408 Crown Street, North Vancouver, BC Canada V7J...
Open the catalog to page 2
All Iasproducts catalogs and brochures
Compare up to 10 products