Catalogs

>

AeroSpreader™ S125 Feed Broadcaster
Catalog excerpts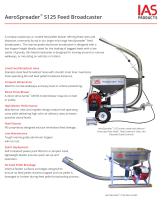 AeroSpreader™ S125 Feed Broadcaster A compact stationary or mobile feed pellet blower offering feed rates and distances commonly found in our larger mid-range AeroSpreader™ feed broadcasters. The marine grade aluminum broadcaster is designed with a low hopper height ideally suited for the loading of bagged feeds with a low center of gravity, this feed broadcaster is designed for moving around on narrow walkways, or mounting on vehicles or trailers. Lined Feed Broadcast Hose Stainless steel feed broadcast hose with smooth inner liner maximizes hose operating life and feed pellet broadcast distances. Compact Dimensions Ideal for narrow walkways and easy boat or vehicle positioning. Direct Drive Blower A direct drive Aerite™ AB135 model blower requires no belt or pulley. High Blower Performance Matched air inlet and impeller design reduce fuel operating costs while delivering high scfm air delivery rates at lowest possible sound levels. Feed Eductor IAS proprietary designed eductor eliminates feed damage. Low Maintenance Tough marine grade aluminum hopper will not rust. AeroSpreader™ S125 trailer model with Manual Periscope Feed Head™, Feed Extension Tube, and Extended Cable Controls Quick Deployment Self-contained power pack fitted to a compact sized, lightweight feeder ensures quick set-up and operation. No Feed Pellet Breakage Internal feeder surfaces and edges designed to ensure no feed pellet remains trapped and not pellet is damaged or broken during feed pellet broadcasting process.
Open the catalog to page 1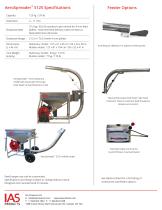 AeroSpreader™ S125 Specifications Capacity Feed Sizes Broadcast Rate 37.5 kg / 82.6 lb maximum per minute for 9 mm feed pellets. Note that feed delivery rates increase as feed pellet sizes decrease. Broadcast Range Stationary model: 127 x 61 x 99 cm / 50 x 24 x 39 in Mobile model: 127 x 81 x 104 cm / 50 x 32 x 41 in Tare Weight (empty) Feeder Options Stationary model: 64 kg / 141 lb Mobile model: 77 kg / 170 lb Gull Wing air deflector for optimum feed spread AeroSpreader™ S125 stationary model with Automatic Periscope Feed Head™ & Feed Extension Tube Manual Periscope Feed Head™ with Feed...
Open the catalog to page 2
All Iasproducts catalogs and brochures
Compare up to 10 products