Catalogs

>

SL2
Catalog excerpts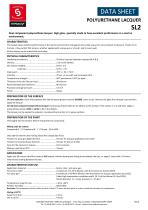 DATA SHEET POLYURETHANE LACQUER SL2 Dual component polyurethane lacquer, high gloss, specially made to have excellent performance in a marine environment. CHARACTERISTICS This lacquer gives excellent performance in the marine environment and against ultra violet rays and is very resistant to abrasion. Thanks to its formula, it has perfect film tension, whether applied with a spray gun or a brush, and it covers well. All the colours can be mixed with each other. PREPARATION OF THE SURFACE On new polyester: Clean the polyester with the de-waxer/grease remover DCR900. Leave to dry. Remove the glaze from the gel-coat and then apply the lacquer. On old dual component polyurethane lacquer: Sand away all parts that do not adhere to the surface. If the surface is in a bad state, apply a polyurethane primer AP20 or AP21 to fill in the defects. This lacquer can be applied to polyester, to polyurethane primer or to epoxy surfaces. APPLICATION Apply two 40 microns (dry film) coats of SL2 lacquer, without leaving any drying time between the two, or apply 2 coats with a 24-hours interval and sanding between the two.
Open the catalog to page 1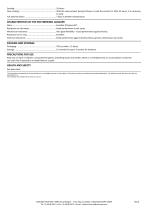 PRECAUTIONS FOR USE Keep out of reach of children. Use protective gloves, breathing masks and clothes. Work in a ventilated area; an accumulation of solvents can catch fire if exposed to a naked flame or a spark. HEALTH AND SAFETY See data sheet This information corresponds to the actual state of our knowledge and has the sole object of informing you about our products and possible applications. It is objectively given but does not imply any guarantee by us. Our company may modify all these details at any time SOROMAP PEINTURE VERNIS ZA de Beligon – 1 Rue Maurice Mallet 17300 ROCHEFORT...
Open the catalog to page 2
All GROUPE SOROMAP catalogs and brochures

Compare up to 10 products