Catalogs

>

SC20
Catalog excerpts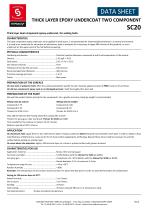 DATA SHEET THICK LAYER EPOXY UNDERCOAT TWO COMPONENT SC20 Thick layer dual component epoxy undercoat, for sealing hulls. CHARACTERISTICS This dual component epoxy undercoat, to be applied in thick layers, is recommended for impermeable protection in a marine environment. It is used as an undercoat for immersion on aluminium, steel or polyester (it is necessary to apply 400 microns of the product), or as an undercoat on the upper work of the hull before lacquering. PREPARATION OF THE SURFACE On new steel or polyester hulls: After the surface preparation specific to each material, apply one layer of PR20. Leave to dry 24 hours On old two-components epoxy cycle or on damaged gel-coat : Sand thoroughly then dust well PREPARATION OF THE PAINT Mix well the product before mixing the two compounds. For a greater accuracy mixing by weight is recommended. Mixing ratio by volume Compound A: 75 Compound B: 25 Thinner for SC20: 0 to 5 Mixing ratio by weight Compound A: 100 Compound B: 20 Thinner for SC20: 0 to 5 Only add the thinner after having mixed the compounds A and B Thinner for spray gun, roller and brush: Thinner for SC20 (ex D200) Time needed for the mixture to mature: 10-15 minutes Mixture's pot life at 20°C: 6 hours APPLICATION On aluminium hulls: Apply three or four 100-microns layers of epoxy undercoat SC20 leaving 24 hours between each layer in order to obtain a final total thickness of 300 microns. Leave to dry for 16 hours before applying the antifouling. Beyond these times it will be necessary to sand the surface before putting on another layer. On areas above the waterline: Apply a 100-microns layer on a clean or primed surface with grease removed. SOROMAP PEINTURE VERNIS ZA de Beligon – 1 Rue Maurice Mallet 17300 ROCHEFORT S/MER Tél : 05 46 88 36 13 • Fax : 05 46 88 36 25 • Email : william.thomas@soromap.
Open the catalog to page 1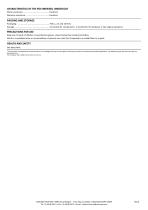 PRECAUTIONS FOR USE Keep out of reach of children. Use protective gloves, solvent protective masks and clothes. Work in a ventilated area; an accumulation of solvents can catch fire if exposed to a naked flame or a spark. HEALTH AND SAFETY See data sheet This information corresponds to the actual state of our knowledge and has the sole object of informing you about our products and possible applications. It is objectively given but does not imply any guarantee by us. Our company may modify all these details at any time SOROMAP PEINTURE VERNIS ZA de Beligon – 1 Rue Maurice Mallet 17300...
Open the catalog to page 2
All GROUPE SOROMAP catalogs and brochures

Compare up to 10 products