Catalogs

>

LTM-INT
Catalog excerpts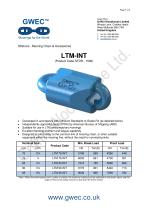 Head Office - Griffin-Woodhouse Limited Woods Lane, Cradley Heath West Midlands B64 7AR United Kingdom T +44 (0) 1299 861829 F +44 (0) 1299 861830 E sales@gwec.co.uk Offshore - Mooring Chain & Accessories LTM-INT (Product Code STDR - 1500) Developed in accordance with Offshore Standards to Grade R4 (as detailed below) Independently approved design (PDA) by American Bureau of Shipping (ABS) Suitable for use in LTM and temporary moorings Excellent bending moment and fatigue capability Designed to join directly to the common link of mooring chain, or other suitable equipment within the mooring line, without the need for connecting links Nominal Size mm Product Code Proof Load *Note - When the swivel passes over a pulley or sheave, the maximum loading must be restricted to that shown above and the angle of entry to the pulley must be no less than 30º to the vertical.
Open the catalog to page 1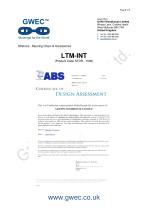 CERTIFICATE NUMBER DATE DESIGN ASSESSMENT This is to Certify that a representative of this Bureau did, at the request of GRIFFIN-WOODHOUSE LIMITED assess design plans and data for the below listed product. This assessment is a representation by the Bureau as to the degree of compliance the design exhibits with applicable sections of the Rules. This assessment does not waive unit certification or classification procedures required by ABS Rules for products to be installed in ABS classed vessels or facilities. This certificate, by itself, does not reflect that the product is Type Approved....
Open the catalog to page 2
All Griffin-Woodhouse catalogs and brochures

Compare up to 10 products