Catalogs

>

FPT INDUSTRIAL F28 ENGINE AWARDED "DIESEL OF THE YEAR®"
Catalog excerpts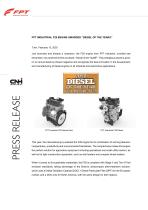 FPT INDUSTRIAL F28 ENGINE AWARDED "DIESEL OF THE YEAR®" Turin, February 13, 2020 Just launched and already a champion: the F28 engine from FPT Industrial, unveiled last November, has received its first accolade, "Diesel of the Year®". This prestigious award is given on an annual basis by Diesel magazine and recognizes the best innovation in the development and manufacturing of diesel engines in all industrial and automotive applications. This year, the international jury selected the F28 engine for its combination of winning features: compactness, productivity and environmental-friendliness. The compactness makes this engine the perfect solution for agriculture equipment including specialized and small utility tractors, as well as for light construction equipment, such as skid loaders and compact wheel loaders. When it comes to its sustainable credentials, the F28 is compliant with Stage V and Tier 4 Final emission standards, taking advantage of the Brand's ultracompact after-treatment solution, which uses a Diesel Oxidation Catalyst (DOC) + Diesel Particulate Filter (DPF) for the European market, and a DOC-only for North America, with the same design for both
Open the catalog to page 1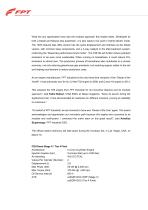 What the jury appreciated most was the modular approach this engine takes. Developed as both a Diesel and Natural Gas powertrain, it is also ready to be used in hybrid electric mode. The 100% Natural Gas (NG) version has the same displacement and interface as the Diesel version, with common base components, and a 3-way catalyst in the after-treatment system, confirming the "Diesel like performance brand motto". The F28 NG will further reduce pollutant emissions to be even more sustainable. When running on biomethane, it could reduce CO2 emissions to almost zero. The production process of...
Open the catalog to page 2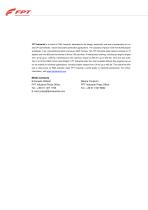 FPT Industrial is a brand of CNH Industrial, dedicated to the design, production and sale of powertrains for on and off-road vehicles, marine and power generation applications. The company employs more than 8,000 people worldwide, in ten manufacturing plants and seven R&D Centres. The FPT Industrial sales network consists of 73 dealers and over 800 service centres in almost 100 countries. A wide product offering, including six engine ranges from 42 hp up to 1,006 hp, transmissions with maximum torque of 200 Nm up to 500 Nm, front and rear axles from 2 to 32 ton GAW (Gross Axle Weight). FPT...
Open the catalog to page 3
All FPT Industrial S.p.A. catalogs and brochures
Archived catalogs

Compare up to 10 products