Catalogs

>

Faria

>

GPS Speedo
Catalog excerpts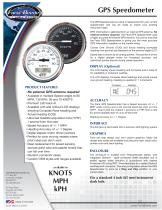 GPS Speedometer The GPS Speedometer is a drop in replacement for your current speedometer and can be made to match your existing instrument dash. GPS information is gathered from an internal GPS antenna. No external antenna required. The Faria GPS Speedometer uses a highly accurate 48 channel GPS receiver. You can be sure that the Faria GPS Speedometer is giving you the most accurate GPS information available on the market today. Course Over Ground (COG) and actual heading (compass heading over ground) are displayed on the optional digital LCD. Speed data is shown by an analog pointer. This pointer is driven by a digital stepper motor for increased accuracy and minimized pointer bounce during vessel operation. DISPLAY (Optional) The LCD display shows Heading and Compass and is back-lit for readability in inclement weather. The LCD displays Compass Rose headings and actual course over ground heading. Heading is updated in 1˚ increments. Compass PRODUCT FEATURES • No external GPS antenna required • Available in multiple Speed ranges to 80 MPH, 130 KPH, 50 and 70 KNOTS • Premium LED back-lit. • Available with and without LCD displays showing Compass Rose heading and Actual heading (COG) • Ultra fast Satellite acquisition time (TTFF) 1 second from Hot start • Speed Accuracy of +/- 1 MPH • Heading Accuracy of +/- 1 Degree • Digital stepper motor driven pointers • Perfect for slow moving vessels where pitot tubes just don't work • Ideal replacement for speed sensing devices (pitot tube and paddle wheel) that can fail over time • Deutsch connector cases • Custom OEM styles and ranges available available in Faria Beede Instruments, Inc. P. O. Box 983 Uncasville, CT 06382 860.848.9271 Fax: 860.848.2704 88 Village Street Penacook, NH 03303 603.753.6362 Toll-free: 800.451.8255 Fax: 603.753.6201 ACCURACY The Faria GPS Speedometer has a Speed accuracy of +/- 1 MPH while moving and a hot (normal stand-by) start up time (TTFF - time to first fix) of about 1 second or a TTFF from a cold (no power applied) start of up to 30 seconds. Heading accuracy is +/- 1 Degree. INTERFACE The dial face is illuminated with a premium LED lighting system. GRAPHICS Faria can help design your own custom graphics. Many dial ranges and scales are available including lens type, bezel color, pointer color and back-lighting. ENCLOSURE The enclosure is molded from Polycarbonate plastic with integrated Deutsch style connector shells (sockets) and is sealed against water intrusion in accordance with Ingress Protection (IP) rating IP67. Wires terminate to a sealed Deutsch weatherproof connector. This wire configuration allows the GPS Speedometer to work as a Plug and Play addition to your current dash. Fits a standard 4 inch (85 mm) instrument dash hole.
Open the catalog to page 1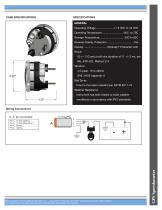 CASE SPECIFICATIONS Salt Spray Front is Corrosion resistant per ASTM B117-73 Weather Resistance Instrument has been tested to resist weather conditions in accordance with IP67 standards. Wiring Connections 12 vDC (Ignition) 12 vDC (Keep-Alive) Ground Lighting Manufactured by the Faria Beede Instruments, Inc. , Uncasville CT, Penacook, NH, USA • Copyright and all other rights reserved. Our products are continually being improved. Specifications may change without notice.
Open the catalog to page 2
All Faria catalogs and brochures

Archived catalogs

Compare up to 10 products