Catalogs

>

Edson Vision II Pedestal Comparison
Catalog excerpts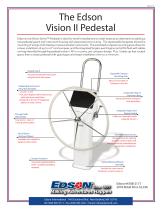 The Edson Vision II Pedestal Edson's new Vision Series™ Pedestal is ideal for retrofit installations on older boats as an alternative to adding a new pedestal guard and instrument housing with associated wire routing. The replaceable faceplate allows the mounting of a large LCD display or several smaller instruments. The extended compass mounting area allows for a clean installation of up to a 4" card compass, and the integrated Single-Lever Engine control fits flush with cables running internally through the pedestal column. All in a roomy, yet compact design. Plus, it takes up less cockpit space than a classic pedestal with guard pipe and keeps installation time to a minimum. Integral Guard Secured to pedestal head, leaves cockpit free of extra pipes. Expanded Compass Mounting Area Mount a Flush Mount Compass to the top. Replaceable Instrument Mounting Faceplate • 12-3/8" x 7-3/4" • Puts your displays within easy access, right where you need them. • Designed to fit most 9" (diagonal) plotter or radar screens. Composite Head w/ Aluminum Base Plenty of room for wiring and heat dissipation Integrated Single Lever Engine Control Cables run internally, insdie pedestal column. Through Shaft Wheel Brake Easy access - clear of turning wheel spokes. Fits all Edson Destroyer Wheels Available with straight or tapered wheel shafts. Roomy Pedestal Column Plenty of room for steering & engine control cables and instrumentwiring-makesforeasier and quicker installation. Compact Footprint Uses existing 4 pedestal bolt holes - no additional drilling required. Optional Recessed Sheave Assembly Provides for more interior headroom or tank clearance. Edson #476B-211T 2018 Retail Price $2,336 Edson International 146 Duchaine Blvd. New Bedford, MA 02745 Tel (508) 995-9711 • Fax (508) 995-5021 • Email:
Open the catalog to page 1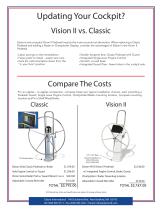 Edson's new compact Vision II Pedestal may be the more economical alternative. When replacing a Classic Pedestal and adding a Radar or Chartplotter Display, consider the advantages of Edson's new Vision II Pedestal. • Labor savings on the reinstallation • Fewer parts to install ...easier wire runs. • Gets the instrumentation down from the "in your face" position. • Smaller footprint than Classic Pedestal with Guard • Integrated Single-lever Engine Control • Smooth, curved base. • Integrated Guard Pipe - fewer holes in the cockpit sole. For an apples - to apples comparison, compare these two...
Open the catalog to page 2
All Edson Marine catalogs and brochures

Archived catalogs

Compare up to 10 products