Catalogs

>

290-2210 SERIES VACUUM PUMP
Catalog excerpts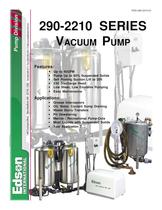 146 Duchaine Blvd., New Bedford, MA 02745-1292 Tel (508) 995-9711 Fax (508) 995-5021 E-Mail: pumps@edsonintl.com PDS-290-2210-01 290-2210 SERIES VACUUM PUMP Features: • Up to 40GPM • • • • • Pump Up to 60% Suspended Solids Self Priming Suction Lift to 25ft 23ft Discharge Head Low Shear, Low Emulsive Pumping Easy Maintenance Applications: • • • • • • • Grease Interceptors Oil, Water, Coolant Sump Draining Waste Slurry Transfers Pit Dewatering Marine / Recreational Pump-Outs Most Liquids with Suspended Solids Your Application ?
Open the catalog to page 1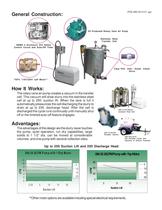 PDS-290-2210-01 pg2 General Construction: Oil Protected Rotary Vane Air Pump Stainless Steel Transfer Cell NEMA 4 Enclosure 24V Safety Control Circuit and Auto-Off Timer Clear PVC Inlet / Outlet Check Va l v e TEFC 110V/220V 1pH Motor** How It Works: The rotary vane air pump creates a vacuum in the transfer cell. This vacuum will draw slurry into the stainless steel cell at up to 25ft. suction lift. When the tank is full it automatically pressurizes the cell discharging the slurry to drain at up to 23ft. discharge head. After the cell is discharged the cycle runs continually until manually...
Open the catalog to page 2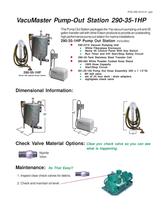 PDS-290-2210-01 pg3 VacuMaster Pump-Out Station 290-35-1HP This Pump Out Station packages the 1hp vacuum pumping unit and 35 gallon transfer cell with other Edson products to provide an outstanding high performance pump out station for marina installations. 290-35-1HP Pump Out Station includes: l 290-2210 Vacuum Pumping Unit l l l 290-35-1HP Shown with optional bronze hydrant l l l White Fiberglass Enclosure Nema 4X Control Panel With Key Switch Run Timer and 24V Start/Stop Safety Circuit 290-35-Tank Stainless Steel Transfer Cell 260-284 White Powder Coated Hose Stand l 100ft Hose Capasity...
Open the catalog to page 3
All Edson Marine catalogs and brochures

Archived catalogs
Compare up to 10 products