Catalogs

>

EdgeTech

>

PACS
Catalog excerpts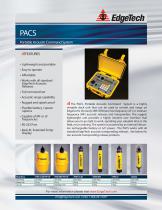 ill FEATURES • Lightweight and portable • Easy to operate • Affordable • Works with all standard EdgeTech Acoustic Releases • Full command set • Acoustic range capability • Rugged and splash proof • Flexible battery / power options • Capable of MF or LF frequencies • RS-232 Port • Back-lit, Extended Temp Display ill The PACS, Portable Acoustic Command System is a highly versatile deck unit that can be used to control and range on EdgeTech's (formerly ORE Offshore) low frequency (LF) or medium frequency (MF) acoustic releases and transponders. The rugged, lightweight unit provides a highly intuitive user interface that allows you to go right to work, spending your valuable time in the field, not in training. The system is powered by an internal lithium-ion rechargeable battery or A/C power. The PACS works with all standard EdgeTech acoustic transponding releases. See below for our acoustic transponding release products.
Open the catalog to page 1
Transmit LF MF Receive LF MF Transmit source level MF/ LF Receive sensitivity Transmit pulse width MF/ LF Timing accuracy Range units Command codes Status receive Beeper Case Size Weight 11 kHz and 12 kHz 24 kHz and 25 kHz 192dB / 195 dB re 1 micro-Pascal at 1 meter - Controllable by operator -80 dB re 1 micro-Pascal at 1 meter 5 milliseconds / 10 milliseconds 1 millisecond Meters BACS, LF, MF & MFE commands (ORE Offshore, EdgeTech, and EG&G) Automatic time-line display of acoustic status replies Audio confirmation of received signals Sealed, portable, splash-resistant 27 cm x 25 cm x 19 cm...
Open the catalog to page 2
All EdgeTech catalogs and brochures

Compare up to 10 products