Catalogs

>

EdgeTech

>

Heavy Load Release
Catalog excerpts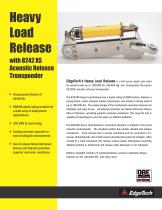 Heavy Load Release with 8242 XS Acoustic Release Transponder EdgeTec ech's Release EdgeTec h's Heavy Load Release is a full ocean depth unit rated for release loads up to 100,000 lbs. (48,000 kg), and incorporates the proven 8242XS acoustic release/transponder. Unsurpassed history of reliability 6000M depth rating suitable for a wide array of deployment applications 100,000 lb.load rating Coding structure operates in worst multipath environments Use of unique Nickel Aluminum Bronze and Titanium provides superior corrosion resistance The 8242XS Heavy Load Release has a depth rating of 6000 meters, features a spring driven, motor actuated release mechanism, and boasts a release load of up to 100,000 lbs. The simple design of the mechanical assembly enhances its reliability and ease of use. All external materials are Nickel Aluminum Bronze Alloy or Titanium, providing superior corrosion resistance. This long life unit is capable of operating for over two years on alkaline batteries. The 8242XS Heavy Load Release's command structure is reliable in the worst acoustic environments. The standard system has enable, disable and release commands. Each release has a unique command and no command is reissued, eliminating the risk of other users operating the system by mistake. After receipt of a valid command, the release returns status information including attitude (vertical or horizontal) and release state (released or not released). Options available include I/O communications, pressure activated release, external on/off, extended life, and many more.
Open the catalog to page 1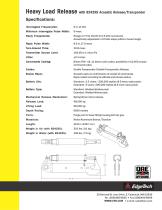 Release 8242XS Acoustic Release/T elease/Tr Heavy Load Release with 8242XS Acoustic Release/Tr ansponder Specifications: Interrogate Frequencies: nterrogate Minimum Interrogate Pulse Width: Reply Frequencies: Range of 7.5 to 15 kHz in 0.5 kHz increments Acoustically adjustable in 0.5 kHz steps (within a tuned range) Reply Pulse Width: urn-Ar Around Turn- Ar ound Time: ransmitter Source Lev Transmitt er Sour ce Le v el: Commands Coding: Binary FSK - 16, 11 block cyclic codes, possibility of 12,000 unique command codes Enable Transponder; Disable Transponder; Release Status Reply: Acoustic...
Open the catalog to page 2
All EdgeTech catalogs and brochures

Compare up to 10 products