Catalogs

>

Datrex

>

Datrex VSG Lifejackets Mk10 USCG/SOLAS - USCG Type I
Catalog excerpts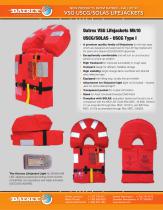 NEW PRODUCTS FROM DATREX – FALL 2014! VSG USCG/SOLAS LIFEJACKETS Datrex VSG Lifejackets Mk10 USCG/SOLAS - USCG Type I • A premium quality family of lifejackets for the high seas which are designed and approved for the US Flag market and for users who require SOLAS/USCG approvals • Exceptionally comfortable and will turn an unconscious person to a face-up position • High freeboard for improved survivability in rough seas • Compact design for efficient, foldable storage • High visibility; bright orange fabric and fitted with SOLAS retro-reflective tape • Equipped with lifting loop, buddy line and whistle • Attachment for lifejacket light (light not included) – Alcares Jack A1-ALK preferred light!* • Transparent pocket for muster information • Sized for Adult Universal/Oversize/Child/Infant • Complies with SOLAS; evaluated, tested and found to be in compliance with the IMO LSA Code (Res MSC. 48 (66)), Section 2.2 as amended through Res. MSC. 207(81), and IMO Res. MSC. 81(70) as amended through Res. MSC. 200(80). The Alcares Lifejacket Light AL1000ALKAM LED, alkaline powered (providing full 60 months of shelf-life), non-hazardous and water activated. USCG/SOLAS/MED.
Open the catalog to page 1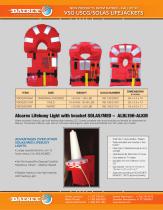 NEW PRODUCTS FROM DATREX - FALL 2014! Life Saving Products VSG USCG/SOLAS LIFEJACKETS ITEM Alcares Lifebuoy Light with bracket SOLAS/MED - ALBL15H-ALKM Water-activated Lifebuoy Light with flashing High-Intensity LED. Comes complete with sturdy bracket and lanyard for attachment to lifebuoy. The Alcares Lifebuoy Light will turn ON when submerged in water and automatically turn OFF when out of water. Shelf-Life: 5 years Alkaline / Sealed Water-activated and includes a "test button" Flash rate: 51/flashes/minute at min 2 candela Operational Life: More than 15 hours Drop tested to 72...
Open the catalog to page 2
All Datrex catalogs and brochures
Archived catalogs

Compare up to 10 products