Catalogs

>

Winches
Catalog excerpts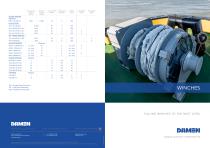 DD = Double Drum Execution SD = Split Drum Execution SID = Single Drum Execution PULLING WINCHES TO THE NEXT LEVEL DAMEN WINCH TECHNOLOGY B.V. Member of DAMEN SHIPYARDS GROUP Nijverheidsstraat 5 3371 XE Hardinxveld-Giessendam The Netherlands info@dame nmc.com damenmc.com DAMEN MARINE COMPONENTS Damen Shipyards Gorinchem is the copyright owner of this brochure - © Damen Shipyards Gorinchem 2018. All rights reserved. Except with the prior express written permission of Damen Shipyards Gorinchem, this brochure and its content may not be distributed and/or commercially exploited.
Open the catalog to page 1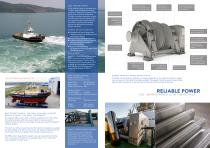 DMC WINCHES OFFER A fully covering range of standard winch designs, using standardized modules and parts in several winch types. Proven quality and completely load tested. Through our series production, we offer the best price with a fast delivery. Rely on a specialist small business attitude from DMC, combined with the best service and guarantee according to Damen standards. Splined connections between main shaft/clutch and main shaft/gearwheel Clean design, no "arms and legs" or inaccessible sections Hardened and grinded gears, creating silence and durability Direct acting clutch cylinder...
Open the catalog to page 2
All Damen Marine Components catalogs and brochures

Compare up to 10 products