Catalogs

>

Seagoing steering systems
Catalog excerpts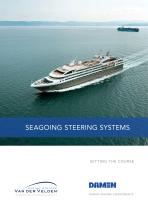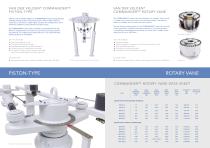 VAN DER VELDEN® COMMANDER™ PISTON-TYPE With its in-house cylinder design, the COMMANDER™ piston-type guarantees reliability and high quality. This steering solution offers multiple options in rudder stock connections, rudder angles, actuators and configurations, which makes the installation process efficient and space-saving. The COMMANDER™ piston-type is available in standardised series with different configurations but can also be custom-built according to specific requirements. The rudder torque range varies from 1 up to 425 kNm with steering angles up to 65 degrees. KEY FEATURES ■...
Open the catalog to page 2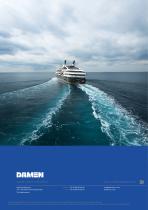 Member of DAMEN SHIPYARDS GROUP DAMEN SHIP 5 NijverheidsstraatYA R D S G O R I N C H E M 3371 XE Hardinxveld-Giessendam The Netherlands Avelingen-West 20 4202 MS Gorinchem info@damenmc.com damenmc.com DAMEN SHIPYARDS GROUP Member of the info@damen.com www.damen.com The Netherlands Damen Shipyards Gorinchem is the copyright owner of this brochure – © Damen Shipyards Gorinchem 2019. All rights reserved. Except with the prior express written permission of Damen Shipyards Gorinchem, this brochure and its content may not be distributed and/or commercially exploited.
Open the catalog to page 3
All Damen Marine Components catalogs and brochures

Compare up to 10 products