Catalogs

>

Propeller Nozzles
Catalog excerpts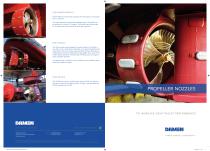 CUS TOMISED NOZ ZLE S Damen Marine Components produces all nozzle types as requested by its customers. The internationally renowned Marin/Wageningen 19A profile can be delivered in various L/D lengths. This nozzle type is often used for thrusters and where reverse thrust is less important. WING NOZ ZLE The Wing nozzle was developed in-house by Damen. Its profile is very short, with a small system diameter and a special hydrodynamic wing profile. The wing nozzle creates optimal manoevrability and increased performance and efficiency at high speed. As a result of the smaller system diameter, vessels using the Wing nozzle can apply a larger propeller diameter. The Wing nozzle is suited for use on vessels such as shellfish cutters, yachts and research vessels. VG4 0 NOZ ZLE The VG 40 has a shorter profile length than the 19A, but delivers the same forward thrust performance. At high cruising speeds the VG 40 outperforms the 19A. PROPELLER NOZZLES D A M E N   S H I P YA R D S G O R I N C H E M DAMEN  MARINE COMPONENTS Member of DAMEN SHIPYARDS GROUP Member of the DAMEN SHIPYARDS GROUP info@damen.com info@damenmc.com damenmc.com www.damen.com Damen Shipyards Gorinchem is the copyright owner of this brochure – © Damen Shipyards Gorinchem 2019. All rights reserved. Except with the prior express written permission of Damen Shipyards Gorinchem, this brochure and its content may not be distributed and/or commercially exploited.
Open the catalog to page 1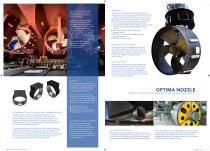 The roots of the Optima nozzle began many years ago at the Netherlands Maritime Research Institute (MARIN). At that time, nozzle type 19A had become the industry standard, offering excellent performance in forward propulsion. Another nozzle, the 37, had been developed to address the requirements of reverse thrust. The challenge that faced the industry was the development of a nozzle that could offer optimal results in both directions. Damen Marine Components stepped up to the mark and delivered the solution: the Optima nozzle. V E R S AT I L I T Y Thanks to its robust profile and excellent...
Open the catalog to page 2
All Damen Marine Components catalogs and brochures

Compare up to 10 products