Catalogs

>

DPO 310
Catalog excerpts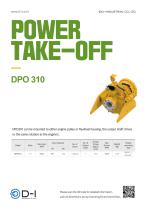 DPO310 can be mounted to either engine pulley or flywheel housing, the output shaft drives to the same rotation as the engine's. Output Torque (kgf.m) (L/R) Engine mounting Type Please scan the QR code for detailed information such as dimensions, pump mounting kit and control box.
Open the catalog to page 1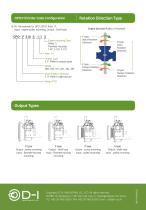 DPO310 Order Code Configuration ※ An The example for DPO 310 (F) Ratio 1:1, Input : engine pulley mounting ,Output : Shaft type DPO- F 310 S 1:1 S Engine mounting Type Pulley: S Flywheel Housing : 1-14", 2-11.5", 3-11.5" Rotation Direction Type Engine direction(Pulley or Flywheel) F type Input Rotation Direction R type Input Rotation Direction Ratio 1:1 Output type S, P *Refer to output types Model 087, 160, 167, 210, 310, 410 F type Output Rotation Direction Input Rotation Direction F, R *Refer to right picture R type Output Rotation Direction Output Types S type Output : shaft type Input...
Open the catalog to page 2
All D-I INDUSTRIAL CO. catalogs and brochures
Compare up to 10 products