Catalogs

>

DPO 160
Catalog excerpts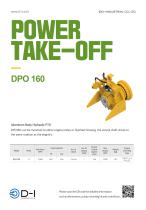 Aluminum Body Hydraulic PTO DPO160 can be mounted to either engine pulley or flywheel housing, the output shaft drives to the same rotation as the engine's. Output Torque (kgf.m) (L/R) Engine mounting Type Please scan the QR code for detailed information such as dimensions, pump mounting kit and control box.
Open the catalog to page 1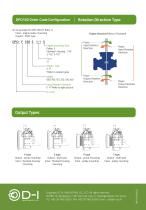 DPO160 Order Code Configuration ※ An example for DPO 160 (F) Ratio 1:1, Input : engine pulley mounting Output : Shaft type DPO- F 160 S 1:1 S Engine mounting Type Pulley: S Flywheel Housing : 1-14", 2-11.5", 3-11.5" Rotation Direction Type Engine direction(Pulley or Flywheel) Ftype Input Rotation Direction Rtype Input Rotation Direction Ratio 1:1 Output type S, P *Refer to output types Model 087, 160, 167, 210, 310, 410 Ftype Output Rotation Direction Input Rotation Direction F, R *Refer to right picture Rtype Output Rotation Direction Output Types S type Output : shaft type Input :...
Open the catalog to page 2
All D-I INDUSTRIAL CO. catalogs and brochures
Compare up to 10 products