Catalogs

>

OXE DIESEL OUTBOARD
Catalog excerpts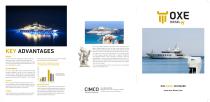 Kreta is the Swedish translation for the island of Crete. According to Greek legend, Poseidon brought forth from the ocean a snow-white bull for King Minos, confirming his absolute right to rule. Deeming the Cretan Bull too fine a specimen to sacrifice as commanded by the sea god, Minos kept it for himself. KEY ADVANTAGES DIESEL unprecedented range. Enabling users to go further and refilling from other vessels or marine based platform. REDUCED FUEL CONSUMPTION LEADS TO SIGNIFICANTLY INCREASED RANGE 200 ENVIRONMENT The use of highly refined, modern automotive-based engine technology significantly reduces the fuel consumption and provides for industry leading emission levels and subsequent minimized impact on the environment. The emission levels are approved by EPA TIER III, IMO TIER II (MARPOL VI TIER 2) and RCD. Diesel is a less flammable fuel and therefore safer to work with in hazardous environments. Robust design and quick shift capability leads to safe operation in fierce conditions. The OXE Diesel is designed to be safe in any environment. RANGE Due to significantly lower fuel consumption than a comparable modern outboard the OXE Diesel offers the market with an OXE Diesel Kreta 150HP Petrol Outboard #1, 150HP From touring and passenger transfer to load carrier and tug – Kreta flexibility rules over all eventualities at sea. The common rail turbo charged diesel engine provides high efficiency and torque. This results in powerful thrust and acceleration, with the capacity to carry heavy loads. The engine runs on a large variety of fuels: EN 590, ASTM D 975 No. 1 and No. 2, JIS KK 2204, F54 and F75. Cimco Marine has taken this name and attributed it to our OXE Diesel Kreta. The Kreta presents superyacht tender boats a significant improvement and unparalleled mastery of range, fuel efficiency, maintenance, safety and maneuverability – as well as ease of refuelling directly from the yacht. It is designed for those who demand reliability at all times. OXE Diesel innovation cannot be compared to anything on the market today and fills a new segment within the marine industry. % increased range MAINTENANCE Easily accessible service points and a modular design create a user-friendly product. Interchangeable gear ratio allows for various operation. The reliable automotive powerhead keeps costs of maintenance and spare parts low. Longer service intervals ensure few disruptions in engine usage increasing operations profitability and productivity. Cimco Marine AB (Publ) Metallgatan 17B, SE-262 72 Ängelholm, SWEDEN info@oxe-diesel.com, www.oxe-diesel.com OXE DIESEL OUTBOARD www.oxe-diesel.
Open the catalog to page 1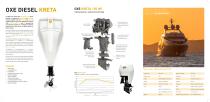 Torque (N-m) Crank Power (HP-m) Propeller Fuelrate (l/h) exp. 2.5 The OXE is the world's first high-performance diesel outboard. It combines the reliability and endurance of marine inboards with the flexibility and agility of outboard engines. It is the only outboard that complies with EPA Tier-III, IMO Tier II and RCD emissions and environmental standards. It is designed and built for commercial user after and is the perfect match for tender engines. Cimco Marine AB, the manufacturer behind the engine, started this project with the mission to design the first high output diesel outboard,...
Open the catalog to page 2
All Cimco Marine Diesel AB catalogs and brochures
Compare up to 10 products