Catalogs

>

Capelli

>

CAP 21 WA
Catalog excerpts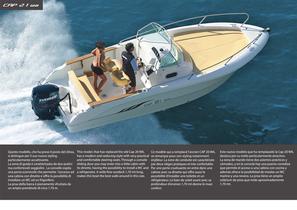 Questo modello, che ha preso il posto del 20wa, si distingue per il suo nuovo styling particolarmente accattivante. La zona di guida è caratterizzata da due pratici ma confortevoli seggiolini . La consolle ospita una porta scorrevole che permette l'accesso ad una cabina con dinette e offre la possibilità di installare un WC ed un frigorifero. La prua della barca è pienamente sfruttata da un ampio prendisole di circa 1,70 m. This model, that has replaced the old Cap 20 WA, has a modern and seducing style with very practical and comfortable steering seats. Through a console sliding door you may enter into a little cabin with its dinette, having the possibility to install a WC and a refrigerator. A wide fore sundeck 1,70 mt long, makes this boat the best walk-around in this size. Ce modèle qui a remplacé l'ancien CAP 20 WA, se remarque pour son styling notamment enjôleur. La zone de conduite est caractérisée par deux sièges pratiques et très confortable. Par une porte coulissante on entre dans une cabine avec sa dinette qui offre aussi la possibilité d'installer une toilette et un réfrigérateur. Le bain de soleil avant avec sa profondeur d'environ 1,70 mt donne le maxi confort. Este nuevo modelo que ha remplazado la Cap 20 WA, destaca por su estilo particularmente atractivo. La zona de mando tiene dos asientos prácticos y cómodos, y en la consola hay una puerta corrediza que permite el acceso a una cabina con cocina y además ofrece la posibilidad de instalar un WC marino y una nevera. La proa tiene un amplio solárium de proa que mide aproximadamente 1,70 mt.
Open the catalog to page 1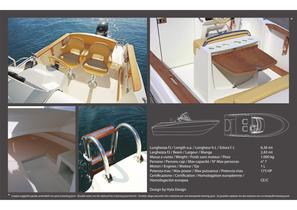 * Lunghezza f.t / Length o.a. / Longheur h.t. / Eslora f. t. Larghezza f.t / Beam / Largeur / Manga Massa a vuoto / Weight / Poids sans moteur / Peso Persone / Persons cap / Max capacité / N° Max personas Motori / Engines / Moteur / Eje Potenza max / Max power / Max puissance / Potencia max Certificazione / Certification / Homologation européenne / Homologaciòn europea 6,30 mt 2,43 mt 1.000 kg n° 7 1L 175 HP CE/C Design by Hyla Design * Coppia seggiolini guida sostituibili con panca leaning post - Double seats can be replaced by a leaning post bench - Double sièges peuvent etre substitué...
Open the catalog to page 2
All Capelli catalogs and brochures
Archived catalogs
Compare up to 10 products