Catalogs

>

XPT
Catalog excerpts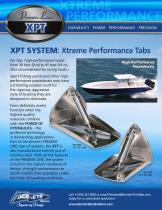 XTREME PERFORMANCE DURABILITY POWER PERFORMANCE PRECISION XPT SYSTEM: Xtreme Performance Tabs For fast, high-performance boats from 30 feet (9 m) to 45 feet (14 m). (Not recommended for racing boats.) High-Performance Powerboats Sport fishing yachts and other highperformance powerboats now have a trimming solution built for the rigorous, aggressive style of boating they are designed to dominate. Form definitely meets function when the highest quality materials combine with the POWER OF HYDRAULICS – the preferred technology in demanding applications. Part of the Bennett PREMIER LINE class of systems, the XPT is also manufactured entirely out of stainless steel. With all the features of the PREMIER LINE, the system is built to the highest standards of design, strength and precision to assure trouble-free operation under the most demanding conditions. Call +1.954.427.1400 or email Premier@BennettTrimTabs.com today for a customized quotation.
Open the catalog to page 1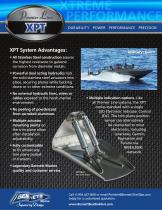 DURABILITY POWER PERFORMANCE PRECISION » All Stainless Steel construction assures the highest resistance to galvanic corrosion from dissimilar metals. » Powerful dual acting hydraulics lock the solid stainless steel actuators into place, securing planes while backing down or in other extreme conditions. » No external hydraulic lines, wires or cables exposed to the harsh marine from corroded aluminum. the trim plane allow A Fully customizable trim plane pocket Legendary Bennett Marine quality and customer service. » Multiple indication options. Like all Premier Line systems, the XPT comes...
Open the catalog to page 2
All Bennett Marine catalogs and brochures
Compare up to 10 products