Catalogs

>

AR35
Catalog excerpts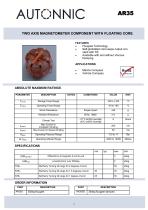 AR35TWO AXIS MAGNETOMETER COMPONENT WITH FLOATING CORE FEATURES • Fluxgate Technology • Self-gimballed core keeps output con stant with Tilt • Available with and without Viscous Marine Compass Vehicle Compass ABSOLUTE MAXIMUM RATINGS
Open the catalog to page 1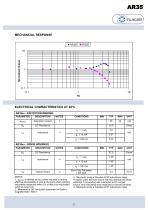 0.1 1 Hz 10 ELECTRICAL CHARACTERISTICS AT 20°C AR35xx - EXCITATION WINDING 1. Ie(sAt) is defined as the current required to reduce effective permeability of core to the point where winding inductance measures within 2% of that of an equivalent sized air-cored coil. 2. Measured in UK, horizontal component of Earth's magnetic field = 60mT 3. Measured using a Wavetek 27XT inductance meter. Fluxgate under test was wound with two identical excitation windings. First winding was connected to DC current source, and inductance was measured on second winding. 4. Measured using a Wavetek 27XT...
Open the catalog to page 2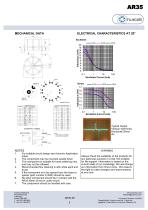 SCHEMATIC SYMBOL NOTE: 1. All dimensions in millimeters unless otherwise specified. AR35 ELECTRICAL CHARACTERISTICS AT 20° Excitation Typical Output Vertical 100mV/div Horizontal 20ms/ div WARNING Always check the suitability of the products for any particular purpose in a trial. Not suitable for life-support. Information is based on the current state of our knowledge. We will change our information from time to time. We reserve the right to make changes and improvements at any time. NOTES 1. For suitable circuit design see Autonnic Application notes 2. The component may be mounted upside...
Open the catalog to page 3
All Autonnic Research catalogs and brochures
Compare up to 10 products