Catalogs

>

Airmar

>

ST300 Thru-hull
Catalog excerpts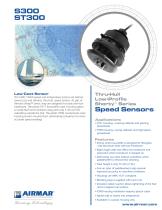 Low-Cost Sensor The S300, ST300 speed and temperature sensors are Airmar's lowest cost and shortest, thru-hull, speed sensors. As part of Airmar's Shorty™ Series, they are designed for boats with low headroom. The plastic P371 low-profile outer housing option is nearly flush and minimizes drag with only 5 mm (2/10") extending outside the hull. The plastic P398 countersunk outer housing version mounts flush, eliminating turbulence for more accurate speed readings. Thru-Hull Low-Profile Shorty™ Series Speed Sensors Applications ■ P371 housing—cruising sailboats and planing powerboats ■ P398 housing—racing sailboats and high-speed powerboats Features ■ Shorty series low-profile is designed for fiberglass and aluminum hulls with low headroom ■ Right angle cable exit offers low headroom and protection when transducer is stepped on ■ Self-closing sea valve reduces waterflow when paddlewheel is removed for cleaning ■ Total height is only 75 mm (2.96") ■ Fins on sides of paddlewheel cavity provide improved accuracy in cross-flow conditions ■ Housings are ABYC H-27 compliant ■ Blanking plug is supplied with each unit ■ Included rubber washer allows tightening of the hull nut to irregular hull surfaces ■ P398 housing installation requires special cutter ■ Speed only or Speed and temperature ■Available in a plastic housing only www.airmar.
Open the catalog to page 1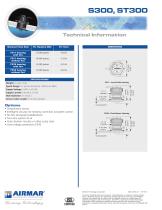 Nominal Pulse Rate Weight: 0.6 kg (1.3 lb) Speed Range: 0.1 knot to 40 knots (0.1 MPH to 46 MPH) Supply Voltage: 5 VDC to 25 VDC Supply Current: 100 mA at 12 VDC Hole Diameter: 51 mm (2") Sensor Cable Length: 10 m (33') standard Options ■ Temperature sensor ■ Intelligent circuitry for linearity correction and jitter control ■ No fins alongside paddlewheel ■ Two-wire speed circuit ■ Pulse division circuitry or other pulse rates ■ Over-voltage protection (OVP) [flAIRMAIT IUH I TECHNOLOGY CORPORATION ©Airmar Technology Corporation S300_ST300_rA 07/18/11 As Airmar constantly improves its...
Open the catalog to page 2
All Airmar catalogs and brochures

Compare up to 10 products