Catalogs

>

Airmar

>

Single Band Chirp Product Compare
Catalog excerpts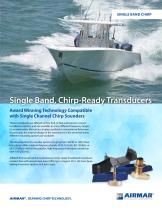 SINGLE BAND CHIRP Single Band, Chirp-Ready Transducers Award Winning Technology Compatible with Single Channel Chirp Sounders These transducers are offered as thru-hull, in-hull and transom-mount installation options, and are available in many different frequency ranges to accommodate the various displays vailable to recreational fishermen. a Acoustically, the internal design of the transducers is the same but many different mounting options are available. The ideal solution for sounder systems ranging from 300 W to 1kW, these transducers offer edium frequency bands of 95-155 kHz, 80-130 kHz, or m 85-135 kHz as well as the popular, high frequency wide beam transducer with 150-250 kHz. AIRMAR first launched the revolutionary Chirp-ready broadband ransducer t product line with several ual-band offerings in August 2011. We have been d adding innovative options to it ever since. AIRMAR®, DEFINING CHIRP TECHNOL
Open the catalog to page 1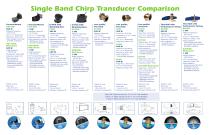 Single Band Chirp Transducer Comparison Transom-Mount TM150M 300 W •Medium Frequency: 95-155 kHz • 6° to 17° Beamwidth 2 • aximum Depth: 600' M • lso available in thru-hull A (B150M) installations TM165HW Wide Beam 600 W •High Frequency: 150-250 kHz •Average 30° Beamwidth • aximum Depth: 500' M • lso available in A transom-mount (TM185HW), thru-hull (B285HW, B175HW) and in-hull (M285HW) installations Transom-Mount TM185M 1 kW •Medium Frequency: 85-135 kHz • 6° to 11° Beamwidth 1 • aximum Depth: 1500' M • lso available in thru-hull A (B285M) and in-hull (M135M) installations In-Hull with...
Open the catalog to page 2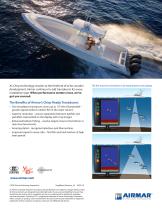 As Chirp technology remains at the forefront of echo sounder d evelopment, Airmar continues to add transducers for every installation type. When erformance matters most, we've p got you covered. The Benefits of Airmar's Chirp-Ready Transducers • One broadband transducer covers up to 117 kHz of bandwidth – greater opportunities to detect fish in the water column • Superior resolution – precise separation between baitfish and gamefish represented on the display with crisp images • Enhanced bottom fishing – resolve targets close to the bottom or near structure/wrecks • Amazing detail –...
Open the catalog to page 3
All Airmar catalogs and brochures

Compare up to 10 products