Catalogs

>

Airmar

>

P19 Tilted Element Thru-hull
Catalog excerpts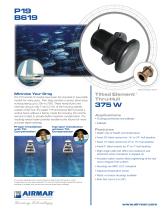 Minimize Y our Drag The P19 and B619 models have been the standard in low-profile models for many years. Their large sensitive ceramics allow deep echosounding up to 206 m (700'). These nearly flush units minimize drag as only 5 mm (2/10") of the housing extends outside of the hull. The plastic P19 and bronze B619 provide a vertical beam without a fairing. Inside the housing, the ceramic element is tilted to provide built-in deadrise compensation. The resulting vertical beam provides excellent echo returns for more accurate depth readings. Proper Installation with Tilt Compensation Improper Installation without Tilt Compensation Tilted Element™ Thru-Hull • Cruising powerboats and sailboats • Sailboats Features • Depth only or Depth and temperature • Fixed 20° tilted versions for 16° to 24° hull deadrise • Fixed 12° tilted versions for 8° to 15° hull deadrise • Fixed 0° tilted versions for 0° to 7° hull deadrise • Right angle cable exit offers low headroom and protection when transducer is stepped on • Included rubber washer allows tightening of the hull nut to irregular hull surfaces • Housings are ABYC H-27 compliant • Optional temperature sensor • Plastic or bronze housings available In a proper installation the ceramic element is tilted inside the housing, which compensates for your boats deadrise. This aims the beam straight toward the bottom, resulting in stronger echo returns and more accurate depth readings.
Open the catalog to page 1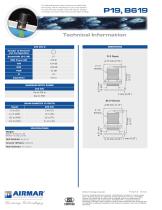 MAXIMUM DEPTH RANGE 200 kHz BEAM DIAMETER VS DEPTH Weight: Plastic—0.5 kg (1.1 lb) Bronze—0.9 kg (2.0 lb) Hull Deadrise: Up to 24° Acoustic Window: Urethane Hole Diameter: 51 mm (2") P19 Plastic 0 75 mm (2.94") B619 Bronze 0 80 mm (3.13'') AIRMAR IkllH I TECHNOLOGY CORPORATION ©Airmar Technology Corporation P19_B619_rB 05/15/14 As Airmar constantly improves its products, all specifications are subject to change without notice. All Airmar products are designed to provide high levels of accuracy and reliability, however they should only be used as aids to navigation and not as a replacement...
Open the catalog to page 2
All Airmar catalogs and brochures

Compare up to 10 products