Catalogs

>

Pioneer Mk3
Catalog excerpts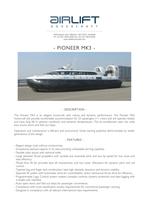 24B August Lane, Alberton, QLD 4207, Australia The Pioneer Mk3 is an elegant hovercraft with robust and dynamic performance. The Pioneer Mk3 hovercraft will provide comfortable accommodation for 25 passengers (+ I crew) and will operate reliably and have long life in adverse conditions and extreme temperatures. The air-conditioned cabin has wide easy access doors and fold out steps. Operation and maintenance is efficient and economical. Great earning potential demonstrated by earlier generations of this design. - Elegant design, built without compromise. - Exceptional payload capacity in its class providing unbeatable earning capability. - Flexible cabin layout with optional toilet. - Large diameter thrust propellers with variable and reversible pitch and low tip speed for low noise and best efficiency. - Mixed flow lift fan provides best lift characteristic and low noise. «Elevators for dynamic pitch and roll - Tapered bag and finger skirt combination, best high obstacle clearance and dynamic stability. - Separate lift system with hydrostatic drive for controllability, direct mechanical thrust drive for efficiency. - Programmable Logic Control system masters complex controls, systems protection and data logging with a simple user interface. - Auto open doors and fold out steps for passenger convenience. - Compliance with most classification society requirements for commercial passenger carrying. - Designed in compliance with all relevant international class requirements.
Open the catalog to page 1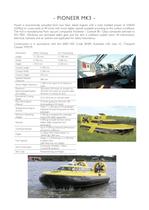 Power is economically provided from two Steyr diesel engines with a total installed power of 320kW (429hp) to cruise easily at 40 knots with much higher speeds available according to the surface conditions. The hull is manufactured from vacuum compacted Vinylester / Corecell ® / Glass composite laminate to ISO 9001. Windows are laminated safety glass and the skirt is urethane coated nylon. All transmission, electrical, hydraulic and air systems are duplicated for safety redundancy. Construction is in accordance with the 2000 HSC Code, BHSR, Australian USL class IC, Transport Dimensions When...
Open the catalog to page 2
All AirLift Hovercraft catalogs and brochures

Archived catalogs

Compare up to 10 products