Catalogs

>

HoverFlyer 580
Catalog excerpts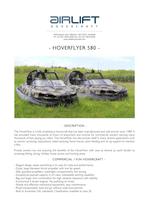 24B August Lane, Alberton, QLD 4207, Australia The HoverFlyer is a fully amphibious hovercraft that has been manufactured and well proven since 1989. It has provided many thousands of hours of enjoyment and income for commercial owners carrying many thousands of fare paying joy riders. The HoverFlyer has also proven itself in many diverse applications such as seismic surveying, aquaculture, weed spraying, flood rescue, stock feeding and oil rig support to mention Private owners too are enjoying the benefits of the HoverFlyer with uses as diverse as yacht tender to accessing fishing, diving, holiday house access and hunting areas. - Elegant design, beats everything in its class for style and performance. - Quiet, large diameter thrust propeller with low tip speed. - Safe, guarded propellers, watertight compartments, fire zoning. - Exceptional payload capacity in it's class, unbeatable earning capability. - Bag and finger skirt combination for high obstacle clearance with stability. - Economical 4 stroke engines. No polluting oil mixes. - Simple and effective mechanical equipment, easy maintenance. - Road transportable, load and go without wide load permits. - Built to Australian USL standards. Classification available to class 2E.
Open the catalog to page 1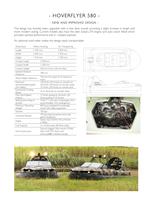 This design has recently been upgraded with a new deck mould, providing a slight increase in length and more modern styling. Current models also have the later Subaru EFI engine and auto clutch fitted which provides spirited performance and in- creased payload. An optional road trailer makes this design easily transportable. When Hovering Cockpit Length Cockpit Width Cushion Height Isolated Obstacle Wave Height Clearance Recommended Speed Economical Cruising I 00 km/hr (54 knots) on smooth ice 55 km/hr (30 Knots) on smooth water 37 km/hr (20 Knots) on smooth land 25 to 30 Knots on smooth...
Open the catalog to page 2
All AirLift Hovercraft catalogs and brochures

Archived catalogs

Compare up to 10 products